In 2008 we were invited to São Tome and Principe, where they have a huge dog overpopulation problem (The Project).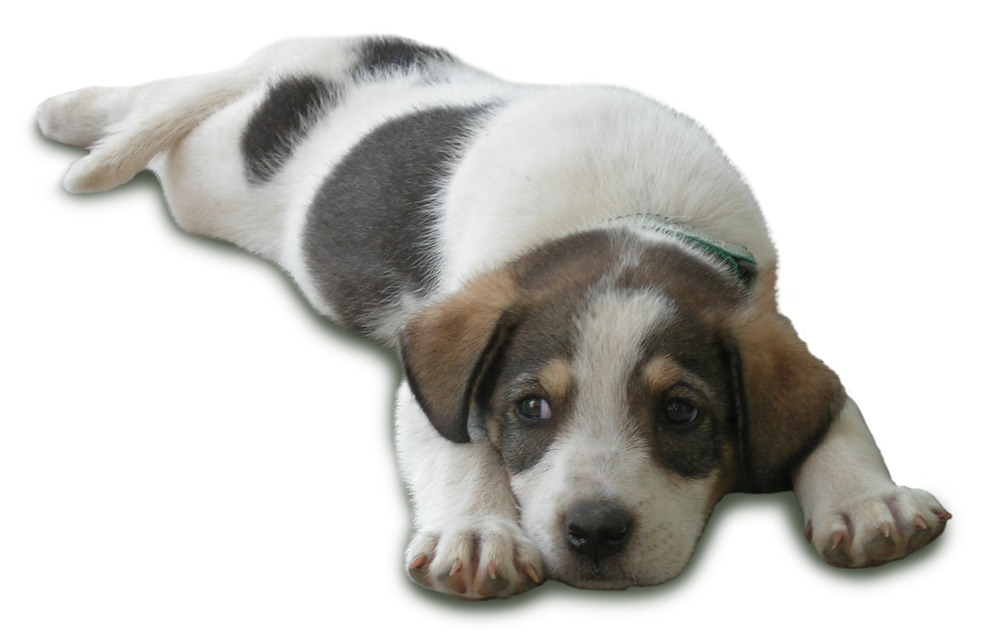 We spent 2 to 3 weeks there, above the 'slaughter house', sterilising as many of the dogs as possible…. with 'levee levee', meaning easy does it, as the island motto, it was difficult to get the locals stimulated to help. However, 235 dogs later we felt pleased with our production line and even managed to teach Joseldo (the local vet) how to do it. So he now knows how to anaesthetise, remove reproduction tracts and wake the animals up before they happily go on their way.
Spay Sisters Sao Tome Project July/August 2008 
The aim:  To begin a sterilisation project in Sao Tome, to control the problem of canine over-population.
The plan:  Dominique Vanthournout (DV), Melanie Moeller (MM), Ella Stekly (ES) and Kirsty Ryley (KR), the adults, plus Abbie Hughes (AbH), Adam Hughes (AH), Tess Hughes (TH) and Rebecca Steen (RS), the kids fly from Lisbon to Sao Tome on 24/7/08 with medical equipment to sterilise up to 300 dogs. The equipment was funded by the charity. DV, MM, KR and RS return after two weeks on 7/8/08, while ES and her three children return on 14/8/08 to ensure no post-operation complications and to complete veterinary training on site.
What happened:  Despite many emails between TAP Portugal and the charity, the first hiccup occurred in Lisbon, post checking in for the night flight. The tranquilising dart gun was allowed through, but the CO2 gas cartridges were taken out of the suitcase, despite having given them to the check-in lady in an open small cardboard box. We were assured that they would follow on the next cargo plane, which turned out to be a fictional story, as they never appeared or were in fact seen again.
The flight arrived in Sao Tome at 6.30am and, as we stepped out of the aircraft, we were struck by the heat and the three dogs wandering around on the runway waiting to greet us. This was a good sign. Despite months of emails with unknown people, one is never sure what to expect…Was there really a dog problem? Would they really have organised free accommodation and food (their part of the deal)?
Entering the small brick airport terminal building, we were greeted by MJ, who had been doing the majority of the emailing. Customs was babbling chaos, a lot of noise with swarms of people and little space. We were clearly in the minority with our fair skins.
We were driven to our accommodation and were delighted…L'Hotel Provence was made up of gite-like little houses with beds, bathrooms and small kitchens, all set in pleasant palmed grounds with a swimming pool. The windows even had mosquito nets, slightly diminishing our risk of malaria. The hotel was owned by Christine and Richard, a lovely French couple who became invaluable in our stay, helping us when we found ourselves stranded etc…
Still on Day 1 after a night flight and little sleep, we had a full day of organisation and politics. We were taken to the Matadouro, the slaughter house, and were shown around.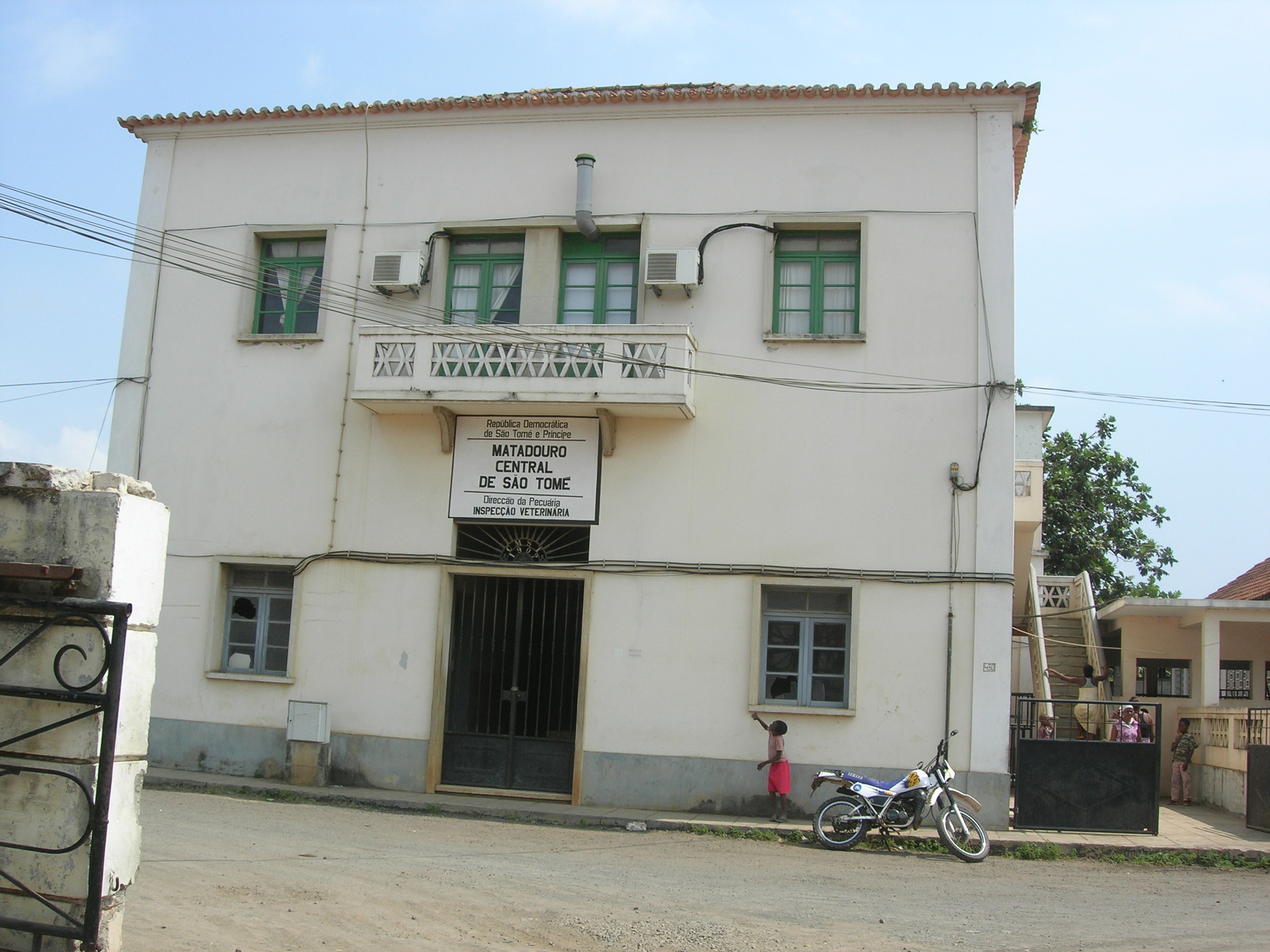 This was where we would be operating and we were able to choose the site, in the end opting for the first floor. This area had a room in which we put the very rusty cages and another where we kept our drugs equipment. It had a sink at one end and a couple of tables. We were able to put more tables outside between these two buildings and so could operate in the fresh air.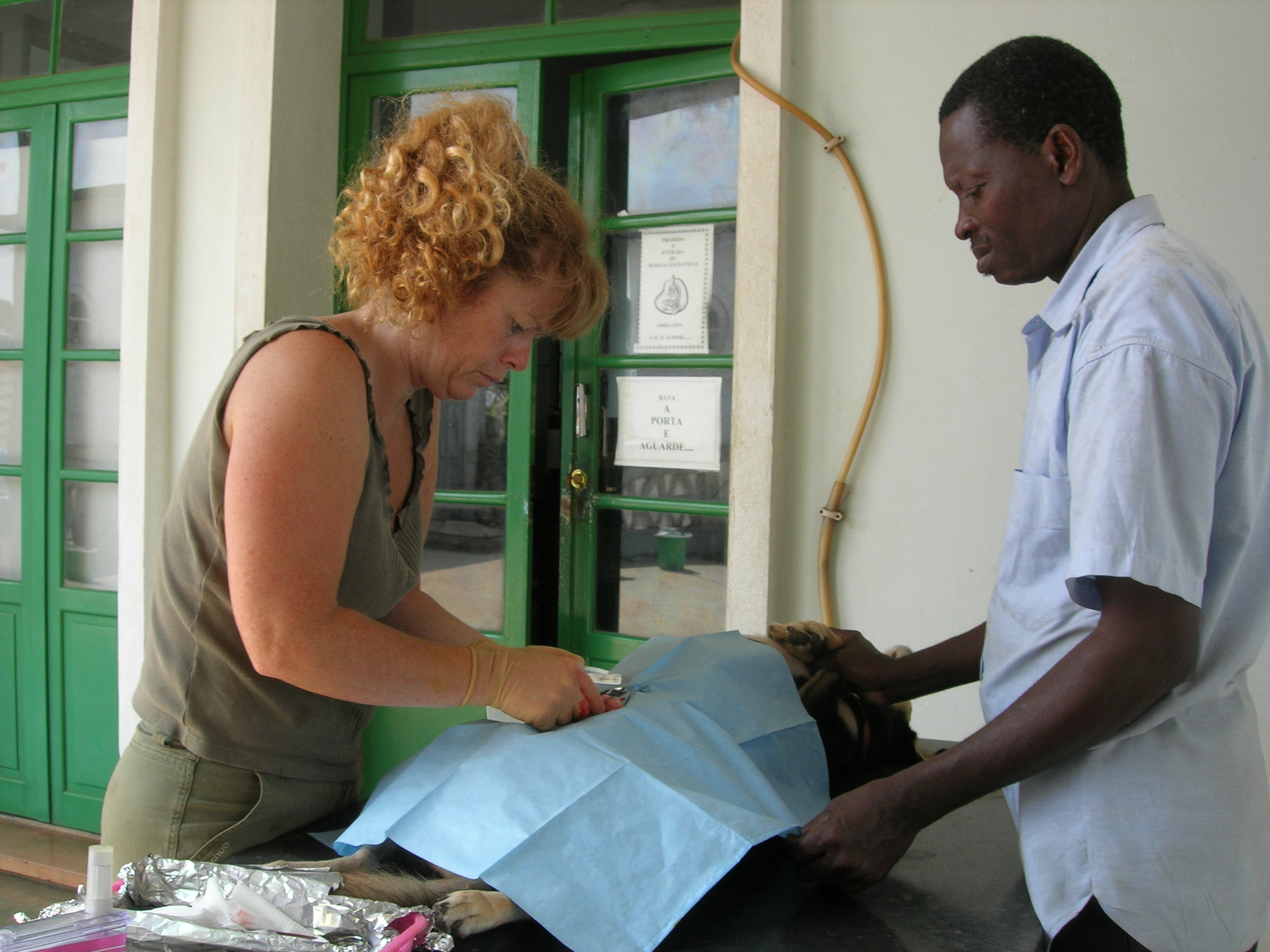 On our trip to visit the Mayor and to be introduced to a heap of officials, we were reliant on French, as none of us spoke Portuguese. Nobody spoke English. After a flowery welcome, we were returned to our hotel to prepare for our first day of work and to get a good night's sleep.
Friday, we started…Our venture had already been publicised, so dogs began to arrive with chains as collar and lead, separated by padlocks, complete with fleas and protruding ribs. We had been lent a set of scales but these were very approximate, varying by 10 kg! Cotton wool, iodine and alcohol were provided and within their offices we found a working autoclave.
The local ministry vet who stayed with us was Joseldo, who thankfully Dominique and I could talk to as he spoke French, whilst Melanie and Kirsty perfected their sign language! The days passed and the initial hiccups were resolved, including getting over the fact that we had been on television, but the commentator said we were offering free vaccinations. To this day, I am convinced that some dogs were sterilised while the owners thought they were being vaccinated.  Kirsty was invaluable in her efficient nursing, keeping us on our toes and maintaining our sterilisation production line.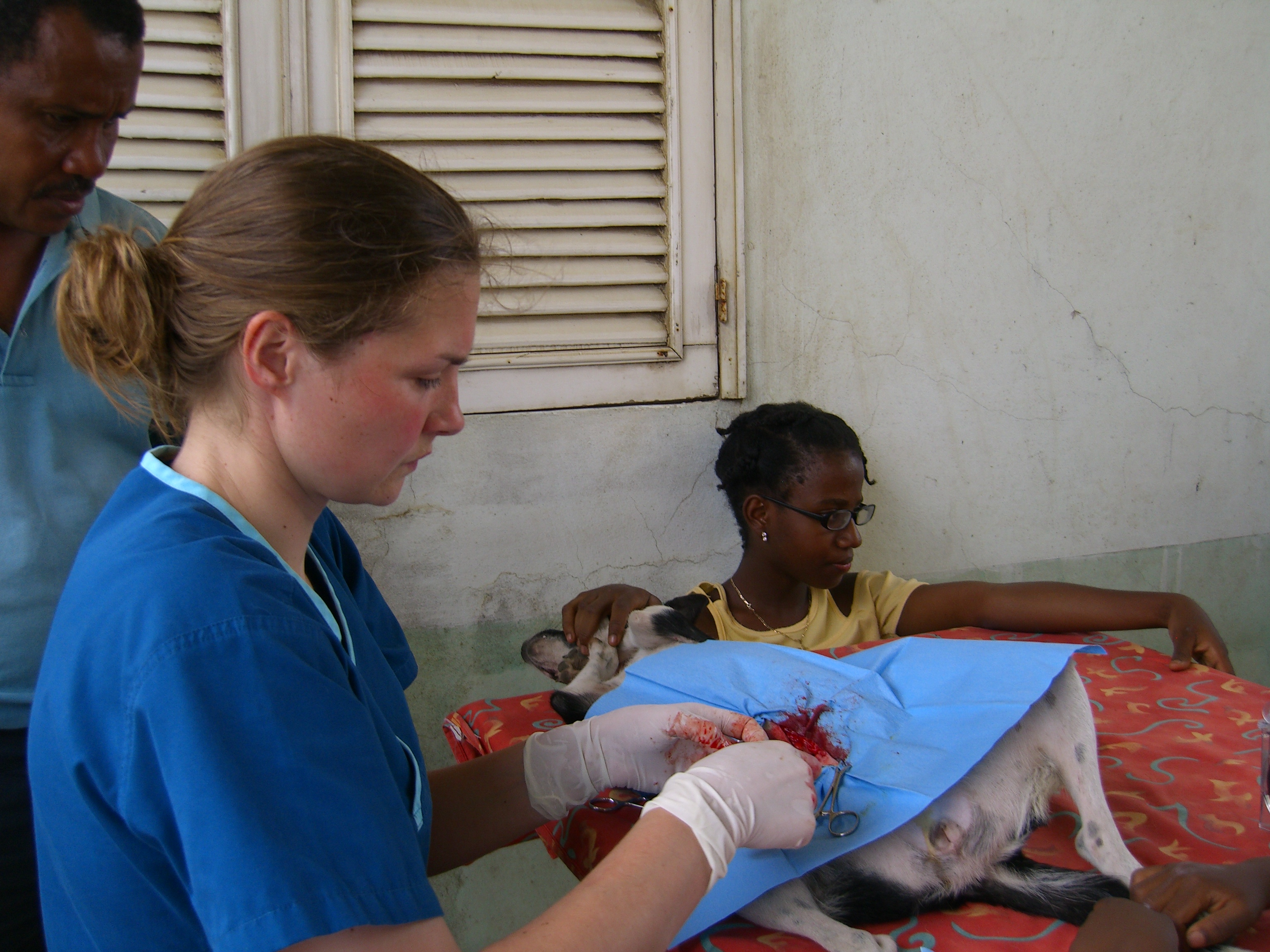 Antonio, a very deep husky-voiced, muscle-bound local, became our driver and amused the children by attempting dog-catching in a very scared manner. The majority of the people on the island are scared of dogs and you see people throwing stones at them daily. Lunches and dinners were organised by MJ. The Pirate provided lunches, kindly sponsored by Banco Internationale de Sao Tome e Principe (BISTP), whilst the Marlin Beach, a short walk from Hotel Provence, provided our evening meals.
Clearly, our aim was to get Joseldo spaying bitches, so he spent the first ten days shadowing Dominique, while she explained the process step-by-step. He had never done a bitch spay before.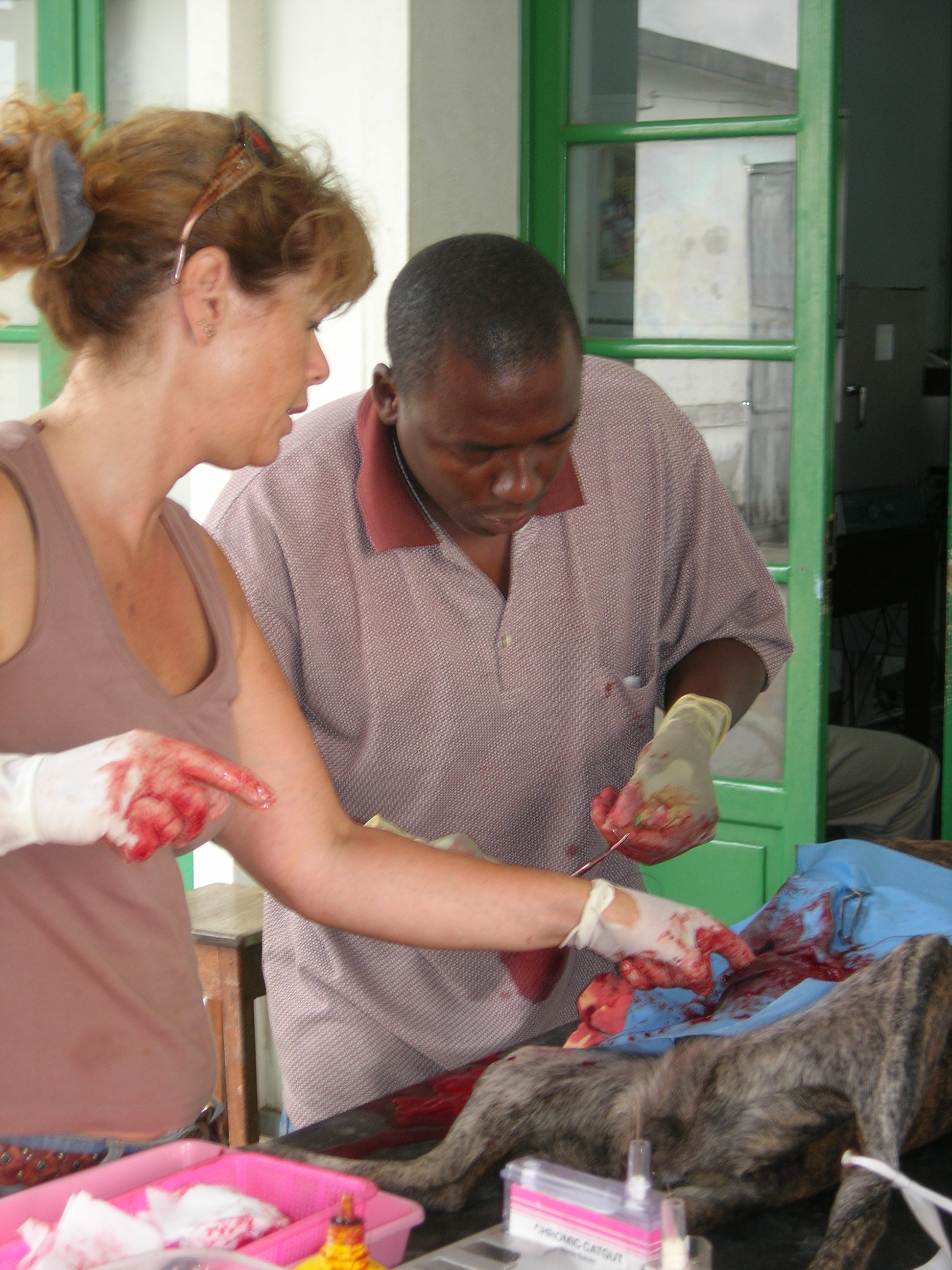 After the first three days, the number of dogs arriving with 'sort of' owners decreased and so we had to organise dog-catching. With us we had two dog catchers, one large fishing net and obviously the dart gun but no cartridges, and so it had to stay in its case. MJ tried to organise two men to catch dogs for us, but this didn't really come to much as the locals have no concept of dog handling. Francesco was seen on a few occasions picking the dog up, to shoulder height, by its tail, while it tried to swivel around and bite him.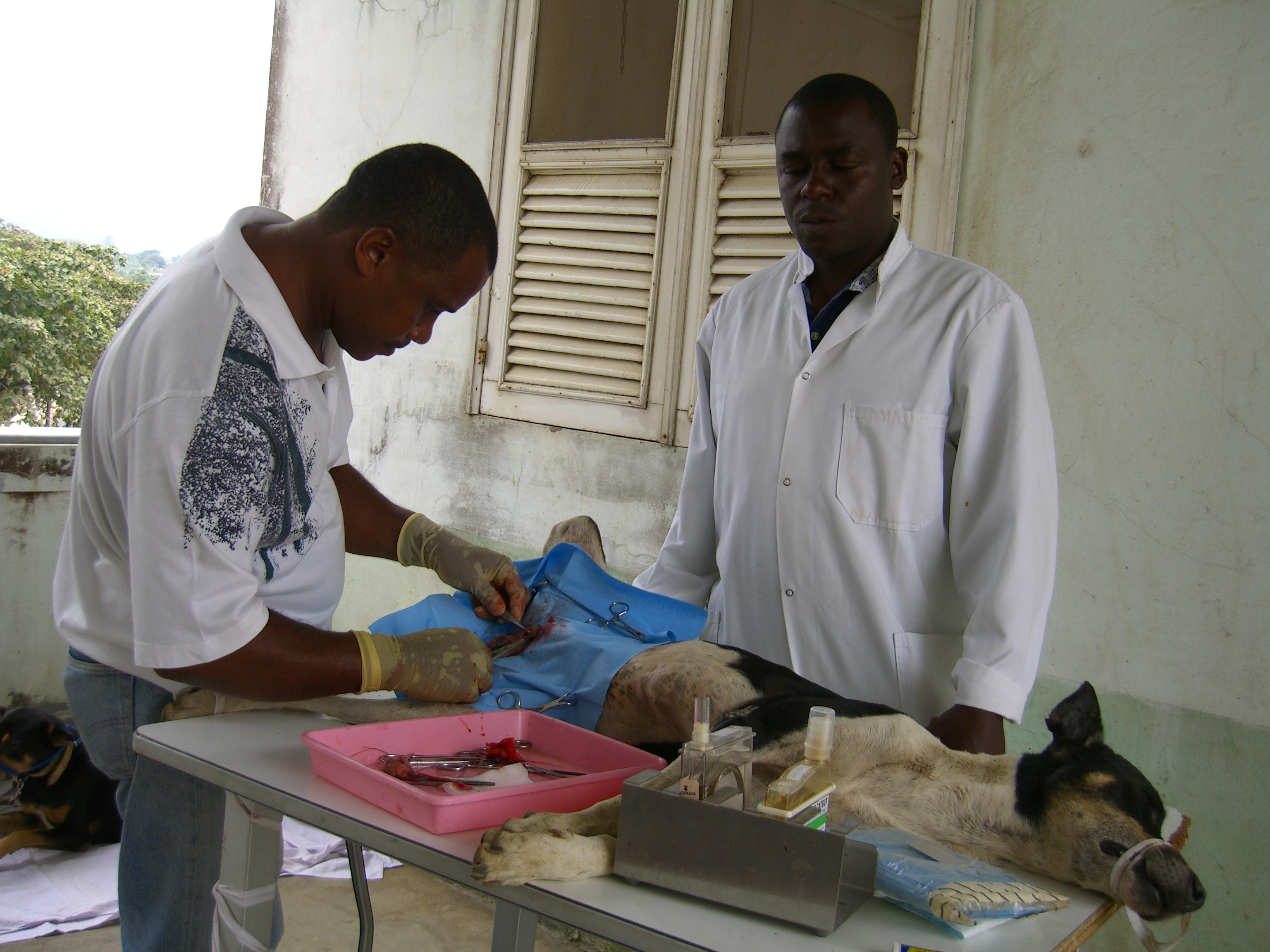 In the main, the dogs also weren't used to being handled by humans, the majority having never been walked on the lead, rarely stroked and never picked up. It was really noticeable in the streets. Dogs were wandering around, as were the humans, but there was no interaction between the species. Very few dogs in Europe won't turn their heads to look at you if you whistle, but dogs in Sao Tome simply didn't understand that the human was trying to attract their attention, so he/she simply continued his journey.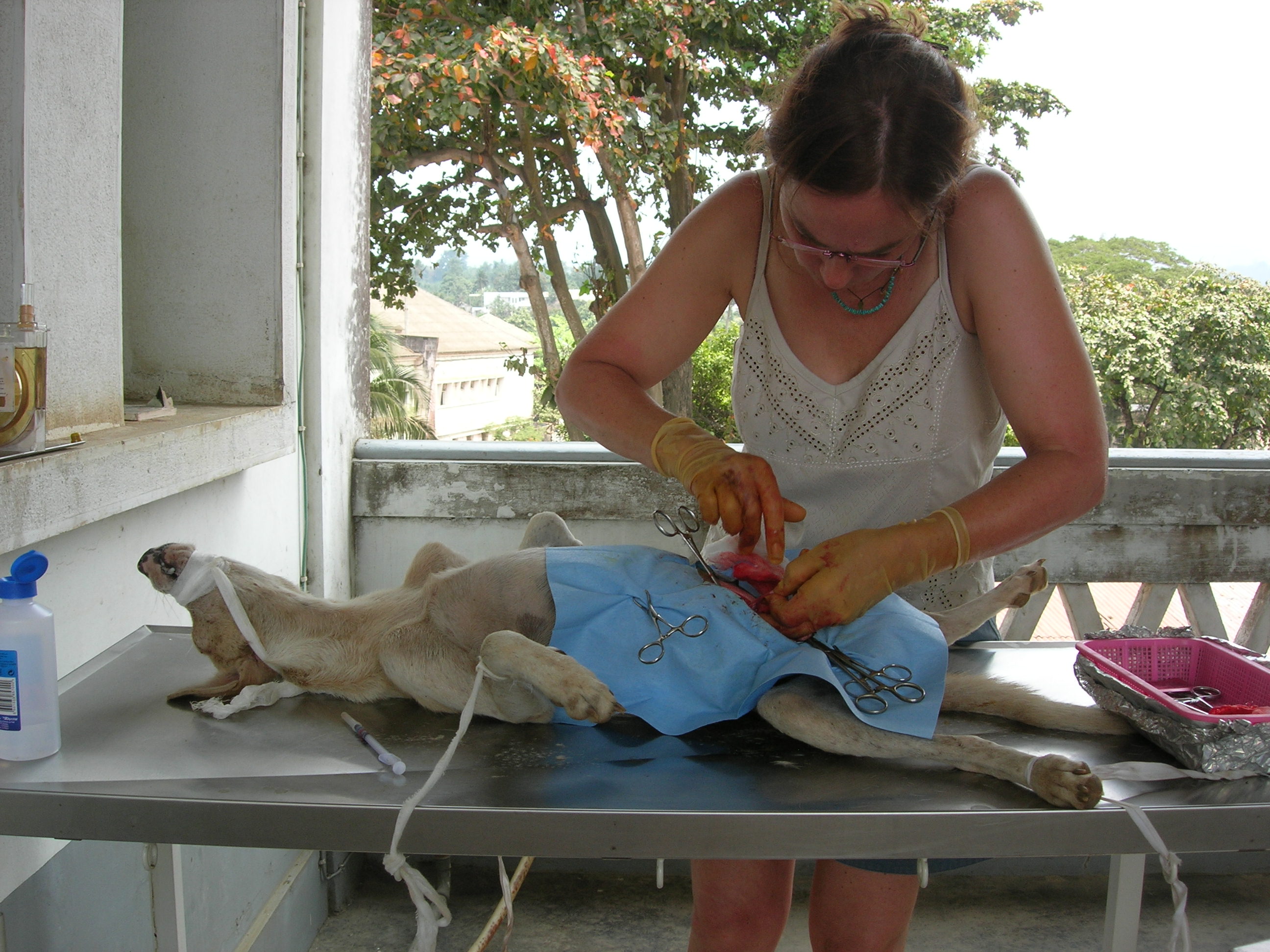 The dog catching problem resolved with the arrival of Alex and Michael, 19 and 15 respectively, whose parents own the air conditioning and refrigeration business on the island. Within a short time, they were able to disappear off with pre-filled syringes, the dog catchers and nets, torn sheets for muzzle ties and the children to help, returning with five or six dogs. They were also invaluable due to speaking English and Portuguese, so acted as interpreters as well.
We felt we had government support and that was made terribly obvious when, on Day 8, I was out catching dogs with Tess and Adam. I managed to net an approximately 12 kg dog outside a wooden shed-like house. He was a vicious male and managed to bite my foot in the process. Through the net, I injected him with the dom/torb combination. On any of these dog catching ventures, you are observed by the locals. They come out of their houses to watch. The mottos on the island being 'It's easier to get a wife than a job' and 'Levee levee' (slowly slowly), and not forgetting the island has 15,000 inhabitants with only an estimated 250 whites, we were providing a spectacle of sorts! That was certainly the case on this occasion, when suddenly a tall lean man appeared, shouting and moving towards me angrily, trying to grab the net which I was standing on. Antonio, our driver, rushed up also shouting and gesticulating at the angry individual. However it was in vain as he broke the net, releasing the dog, and strode back into his shack.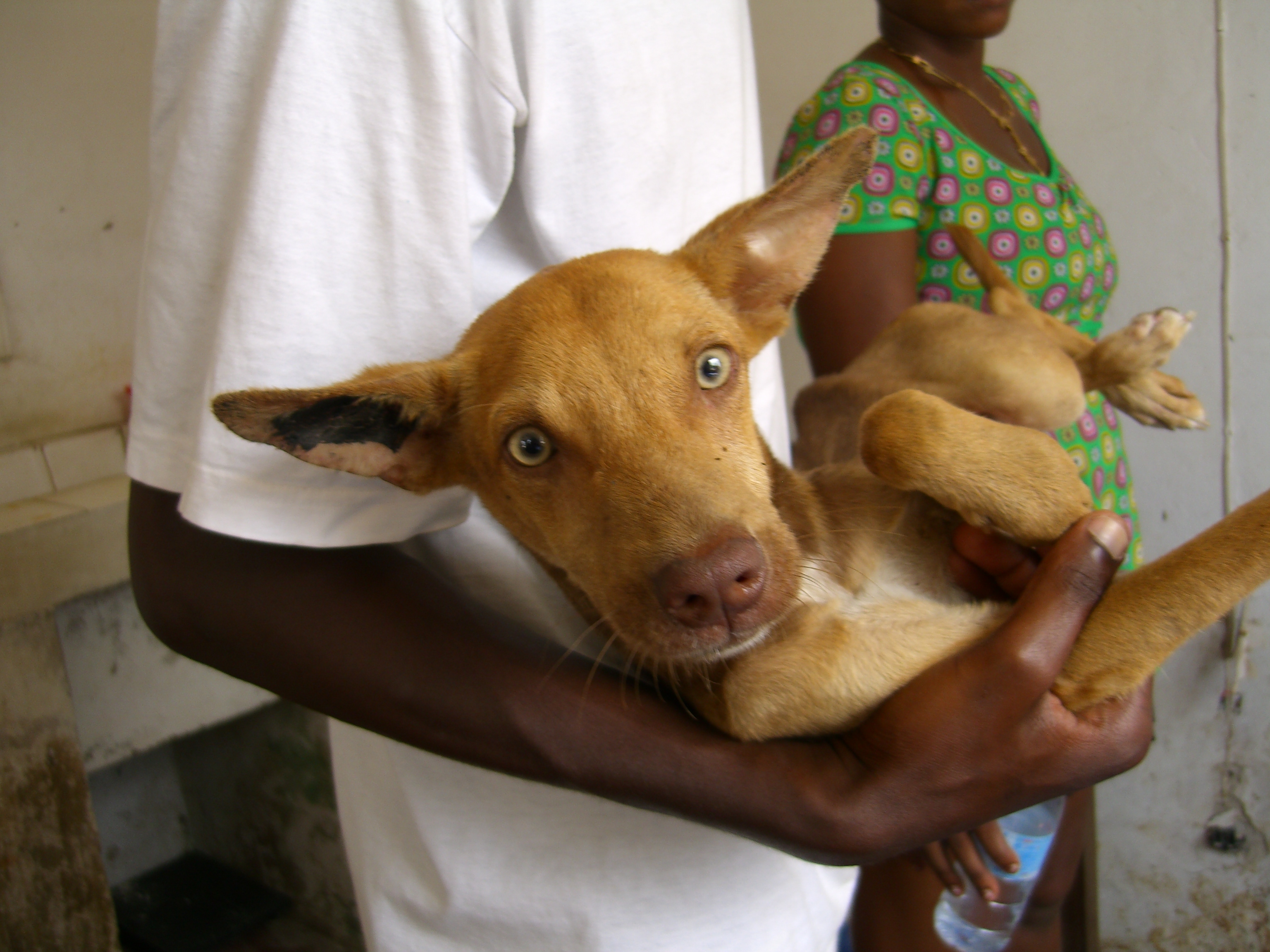 I returned to the Matadouro furious and described the incident to Joseldo. MJ arrived and I insisted on seeing the Mayor, which meant interrupting a meeting, and we called the commander of the police, all of which happened within 20 minutes of the event. So we found ourselves back at the site of the incident, accompanied by the navy blue police van with ten policemen inside and five outside who had decided to walk, Natalina (the Minister of Agriculture) and the Mayor. Natalina was busy saying to us, 'Spay Sisters' now having arrived en masse, "You can't enter this property," when suddenly I felt myself being pushed from behind by the commander of police. "Rentrez madame, va chercher les chiens!" (Go in madame, go get the dogs!) So we did, followed by the police, and we managed to get three dogs off his property. They were all very skinny and two of them were very pregnant. The owner was handcuffed, taken to spend a night in the cell and fined.
Our project was obviously important to the Mayor, which was motivating for us. At times it is quite difficult simply to continue, because it is hot, fairly difficult work and it takes considerable effort to focus on the fact that a difference is going to be made, even if we are just at the tip of the iceberg.
So we continued. We all managed to keep working despite the odd gurgly belly, headache and overwhelming mid-trip lethargy. On 7 August, DV, MM, KR and RS left after a lovely farewell dinner with the Mayor and his official entourage, complete with a number of appreciative speeches and flowers, leaving me and my kids. We had decided earlier in our planning that this staggered departure would be a good idea, due to possible post-operation complications etc…In actual fact, it proved a real benefit to Joseldo. It gave him time to start really operating by himself, while still having supervision and advice. It also provided time for people to come forward with questions and problems.
On the day that the others left, a dog died and was presented for autopsy. It had been operated on eight days earlier. On post mortem, the dog showed all surgery ties in the right place, no sign of haemorrhage with respect to the operation, and I can only guess it got septicaemia? We also had one wound break-down which was re-stitched. Another dog returned with a history of not being well pre-operation and now post-operation wasn't eating. It was put on a drip and given antibiotics, was sent home and was not seen again.
Overall, we felt that the trip was a huge success, with 235 animals being sterilised.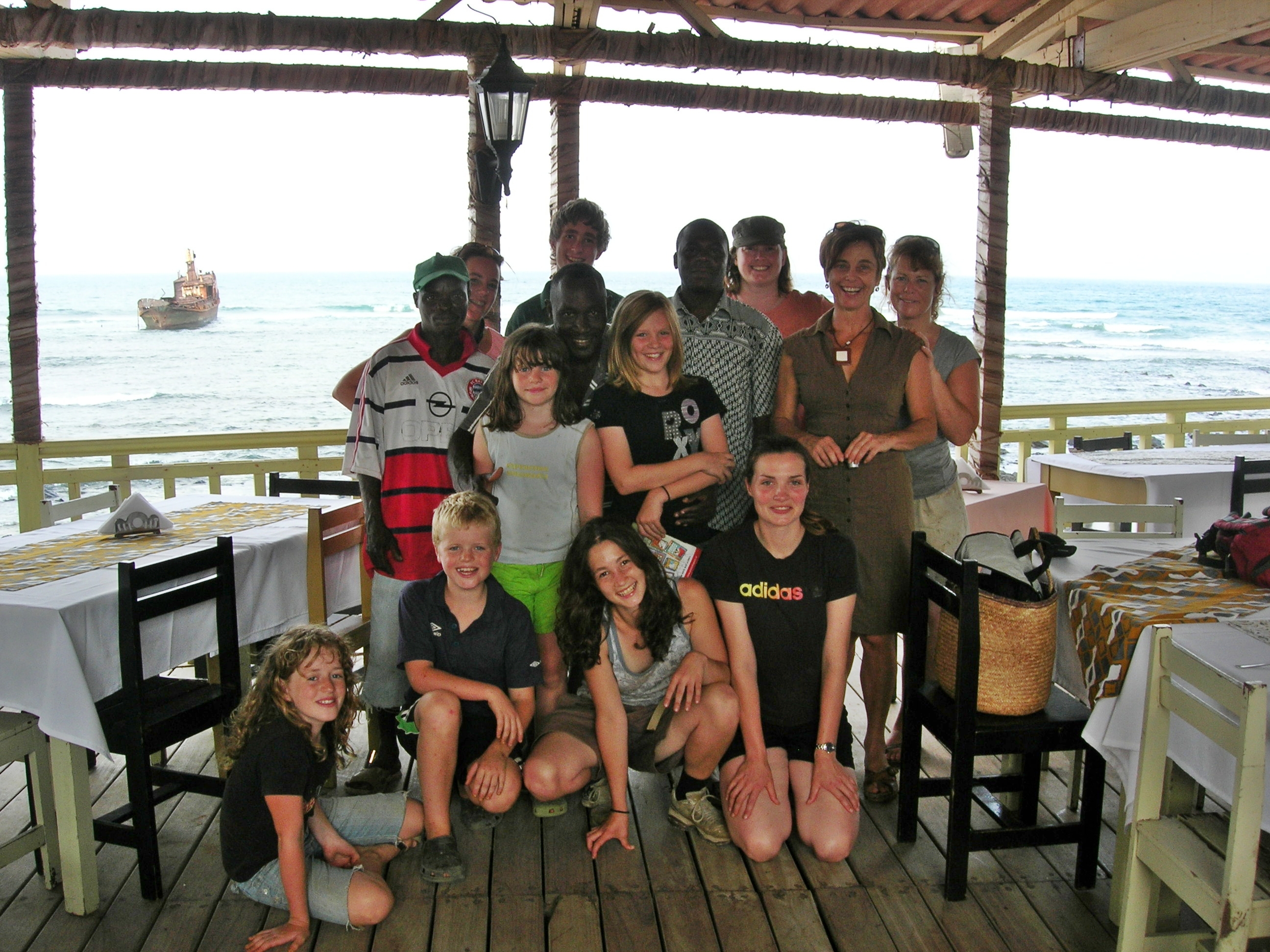 Zig-zag from top left; Dominique, Michael, Kirsty, Ella, MJ, Joseldo, Antonio, Francesco, Tess, Rebecca, Melanie, Alex, Adam and Abbie
The numbers we achieved:
They eat cats so we saw few!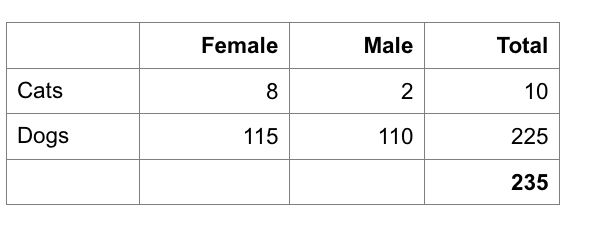 The equipment we used:
6 complete kits drapes/swabs
Amfipen LA Kindly donated by Intervet 7 bottles (80 ml)
Norocarp Kindly reduced in price by Norbrook 8 bottles (50 ml)
Medetor Kindly reduced in price by Virbac 15 bottles (10 ml)
Dolorex Kindly donated by Intervet 8 bottles (10 ml)
ClorketamBought in France to reduce worry of carriage
across borders; Vetoquinol 20 bottles (10 ml)
Antisedan Pfizer 4 bottles (10 ml)
Polysorb/Biosyn Kindly donated by Vetoquinol (UK) 4/6 boxes
Hartmanns Aquafarm & giving sets Animalcare 6 bags
Improvements planned for the next project:
Make very sure that CO2 cartridges will be taken on the plane
Ivomec, wormers and anti-flea products to be taken (Novartis has already given us a kind donation)
On the post-operation hand-out, greater emphasis to be placed on the advice that animals must return if they are not well
Try to learn a bit more of the language native to the area, to ease communication.
And finally…
A big thank you to all the drug companies that helped, to MJ who hassled a lot, Talia who hassled a little less, the lovely French contingent on the island (merci Richard, Christine et Charlotte) also Michael and Alex. And please stay supporting us this year. We are off to…We are keeping it a secret until nearer the time!!
And lastly a big round of applause for Joseldo, who is still operating on dogs although a little 'levee levee'…
Come on, keep up the good work!
The Spay Sisters