SPAY SISTERS TRIP TO NEW CALEDONIA
So with the exception of Suzy, who flew in from Kuwait and Ann, who was joining us in New Zealand, the excited, vivacious Spay Sisters reunion happened in Heathrow Terminal 3.  Dominique had not been on the previous 2 trips, Toni was new.  As always the bags were unpacked and repacked with weight being equally shared, this year we had sent the Ketamine by Royal Mail and so were relatively unconcerned with problems with customs.
Our main concern at check in being that our bags were checked right through to Noumea, however we were spending a night in Auckland!!
After a lot of films, a lot of plane food and little sleep, collecting Ann on route, we finally arrived on the morning of the 10th in Noumea.  Flying in the scenery was spectacular, the sea surrounding the island being so blue and turquoise and clear.  The island being centrally mountainous and intensely green.  Walking out through the airport exit, a sign reading SPAY S was being held by Chris.
Chris was Diane's partner and after introductions, we went to Europcar where he had organised a Fiat Ducato, which seated 9 people.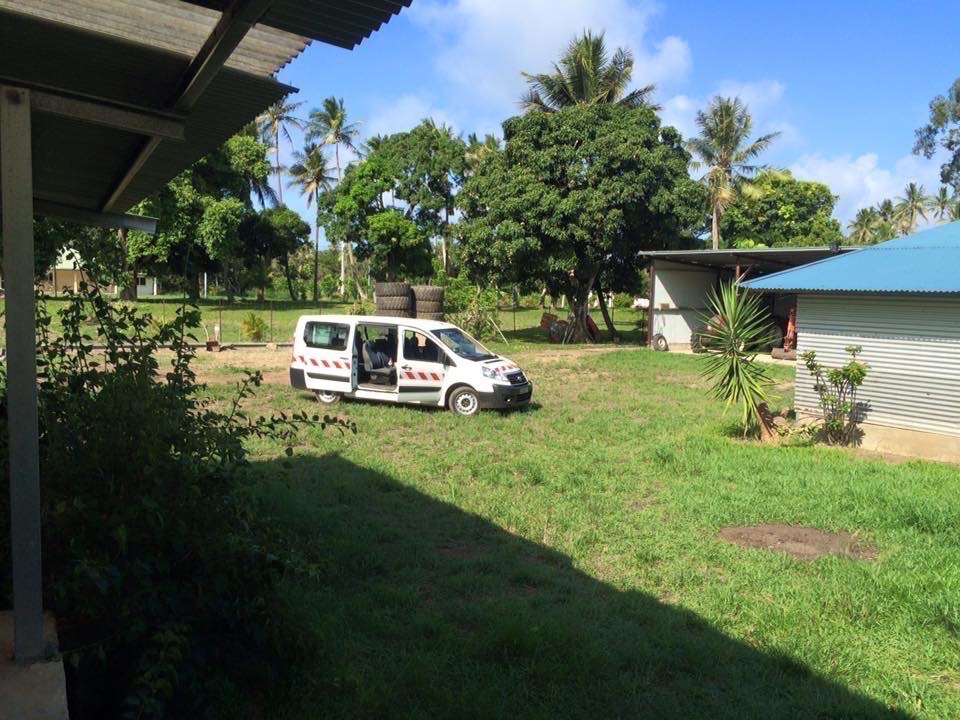 Chris then kindly drove us to Diane's house, where we met Diane, an english teacher in the local school.   An amazing lady completely passionate about her cause.  After all there are few people I know prepared to live amidst 130 dogs, luckily for her, she is about to move, as she has bought a plot of land.  Then we set off again to Paul's place! This was were we were going to live for the next 5 days.
Paul was a true Kanak, he had a lovely 4 wheel drive, a very generous nature and his houses were open plan and unfinished! Despite valiant efforts of trying to keep the mosquitos away,  Toni and Helena stoically suffered the consequences.  So if Paul was providing the accommodation, his sister in law, Eugenie, was providing the food.  Yes, the food was delicious and there was more than enough, including entire baguette sandwiches each for lunch.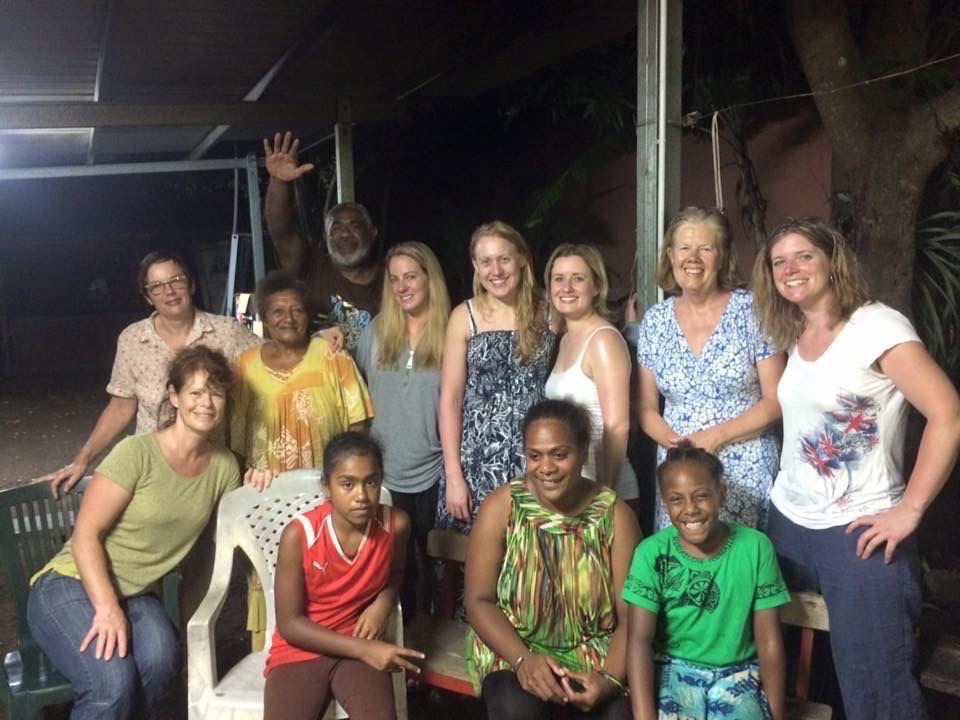 Having arrived, deciding which mattress in which room we were all happy with, we then went about organising ourselves for our first day of operating.  Diane had organised that we were going to stay locally in Houailou which was well planned.  As we started to unload the Spay sisters stuff, we realised that in fact we had No antibiotics and No sedatives… well we did have a bottle of this and a bottle of that but no where near the bottles we needed for our mission.  OMG, what had happened, what had gone wrong? Basically it was an email miscomprehension between Sharon and I, followed by a lack of email reading by the others.  The wonderful thing about disasters is that you always learn a heap from them.  So on future trips, we will be double checking the TOP 5 (ketamine, domitor, torbugesic, rimadyl and LA amoxycillin) before we set off.
The problem was how to sort out the problem, Diane was not prepared to let us go into a local vets and purchase the products, because we were not meant to be there.  She was sure the local vets would be very annoyed feeling that we were stealing their business.  An idea that we have encountered on previous trips but which is foolish, after all we are there for a short period of time and we are only sterilising dogs/cats belonging to people without the means to do it themselves.  There are no pdsa's, or rspca neutering vouchers for people on low incomes.  We got in touch with Sabine, an old running friend of mine in France, who now lives in Noumea and she managed to via a friend get us a load of valium from the chemist.
Our first day of operating went ok, we learnt that the dogs could be castrated with valium and ketamine but the combination was not sufficient for the bitches, irrespective of your speed! Also we were being presented with a lot more female dogs than males.  Which as the aim is to decrease overpopulation problems is a good thing, but which at that moment in time when we weren´t sure how long our bottle of domitor would last, was a bad thing!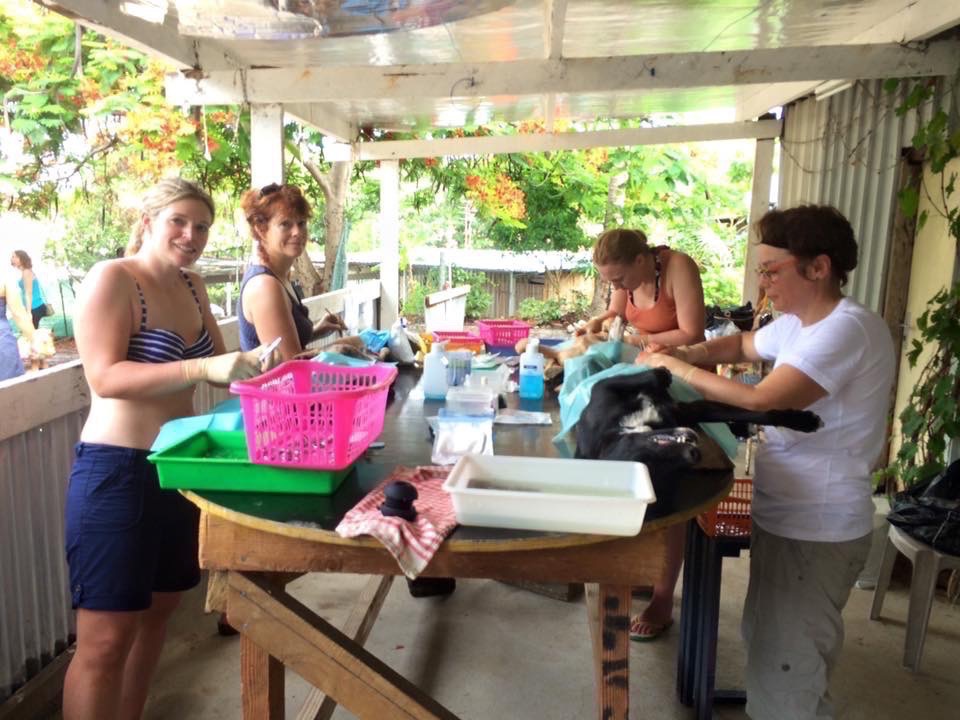 The first day went well, we didn't have Suzy yet so Sharon as the only nurse had to leap in all directions with vet´s screaming ´top up´´top up´ but as always she managed still smiling.  Toni our new girl, discretely got into the swing of things and once we had finished and packed up and  returned to Paul's we got into our swimming costumes and Paul drove us the 5 mins to the totally empty beach and the sea was so warm.  We all felt really lucky to be living this experience.  That evening Suzy arrived.
So at the end of each day, we would get an email or a phone message or a visit when we were at Paul´s explaining were we would be going the following day.  New Caledonia is basically a long island with a road around the edge and 2\3rds of the way down a road across.  Day 2 we were working in Nepoui, so it meant setting off at 6am.  Another cultural fact about NC is that in general people go to bed at 9pm and wake up at 5.30 which as we were all jet lagged anyway worked fine with us.  Setting off at 6am became routine for 8am starts.
Day 2 was another success, Diane had managed to buy 2 bottles of xylazine and 2 bottles of domitor, from a vet, who wished to remain anonymous!!  so it was easier for the nurses and there were now 2 of them, easier for the vets as it was our second day and Hel's music is fab.  As we were leaving, the man´s whose yard we were using, approached me to thank me and said 'thank you ever so much for your hard work girls, I have some cannabis in the car, can I give it to you as a gift'.  The professional within me replied 'No, thanks for the offer, but no thanks'.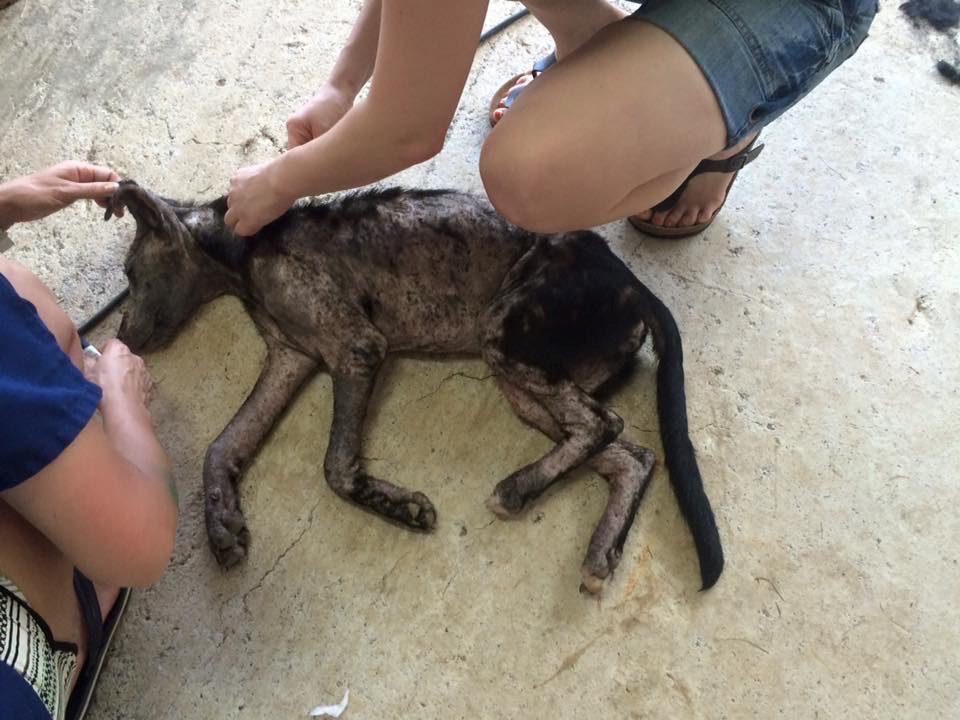 Day 3 we went into the centre of the Island alittle bit, there were not that many animals, but it didn't matter, we did everything we could.  We also managed to buy a bottle of antibiotics for a supposed horse injury and the majority of the team got taken to skinny dip in a mountain waterfall and the mango's were marvellous!
Day 4 , and another early start  as we headed off to Kone, where we were welcomed into some one's house and their covered verandah.  It was terribly hot, so operating in bikini tops became the trend!
Diane hadn´t organised anything for our 5th day but as Paul and Eugenie had been so welcoming, we decided to stay local (we could then have a much needed lie in till 7am!) and go and castrate a couple of pigs.  Eugenie was surprised that we anaesthetised them and did not just turn them upside down!  Then we returned and had an interesting encounter with a Caldoche (original white inhabitants) and his skinny lurcher like dogs.  Dominique was luckily there to calm the situation and the man despite having arrived for wormers ended up having 4 of his dogs neutered.  Helena then finished the operating day removing a leg from a dog with an atrophied, paralysed front limb with a sterilised builders saw!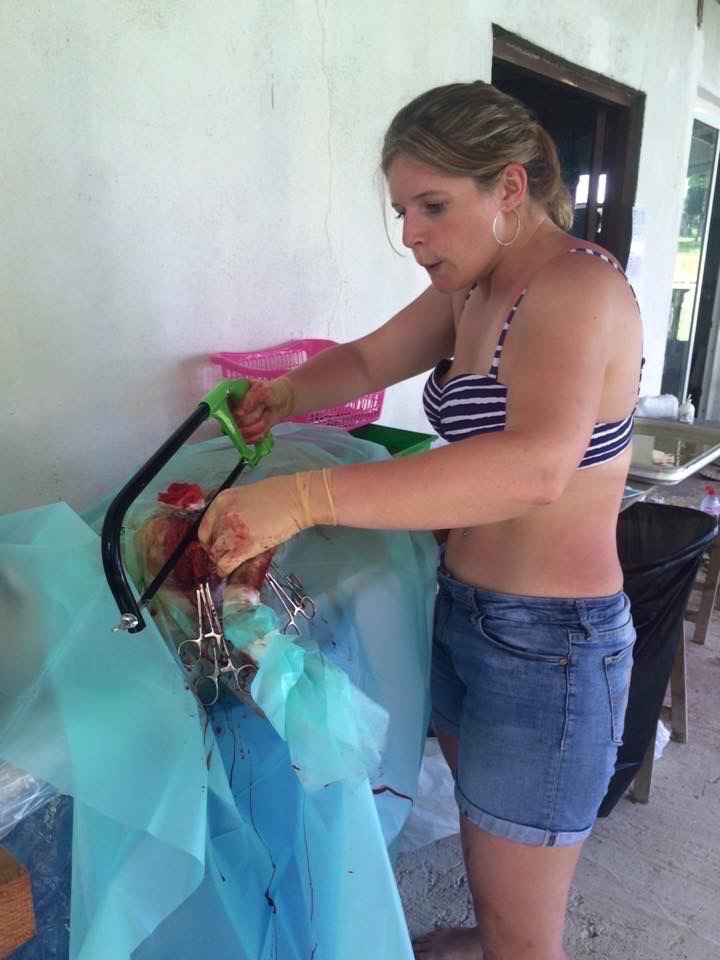 It was our last night at Paul´s and so they gave us a party and the food was amazing with freshly caught lobst  er and meat from the barbecue… The next day we packed up, tidied up said our goodbye's and left for the next bit of our trip back in Noumea. Our accommodation was split and so 4 of us stayed at Patricia´s and 3 stayed at Ilse and George's or so we thought until the following day when Patricia's group got moved nearer Ilse and George's to Vallon Dore.  Sharon and Helena were obliged to get to know each other even better cuddling up in what they called a princess bed!!
Working day 6, involved a lot of cats all delivered early in the morning to our garage overhang which made a change as we had been doing nearly all dogs.  And we only had one escapee! which wasn't our doing! We met Jan, a very friendly man you was very useful organising and who teamed up with us and wished to come and help us the following day.
Day 7 the squat, so we arrived at the squat bright and early to meet Sarah, who lived there and was volunteering her porch until we spotted a better one.  Light is really necessary to operate and so it has to be facing the sun, and not in the shade.  We all agreed this was our best day starting with Sarah stating ' yes she would get us running water, but she just had to turn off the meter first'.  Then Jan asking us to creatively position fruit and veg on palm leaves so that we could make a tribal offering.  How we didn't laugh is impossible to say!  An absolutely delicious lunch of coconut rice and fish.  Sharon even got to show off her skills at suddenly stabbing 4-5 month old beach dogs. And we finished our 50 operations just before the sudden down pour happened so all the  animals had staggered off before getting too soaked!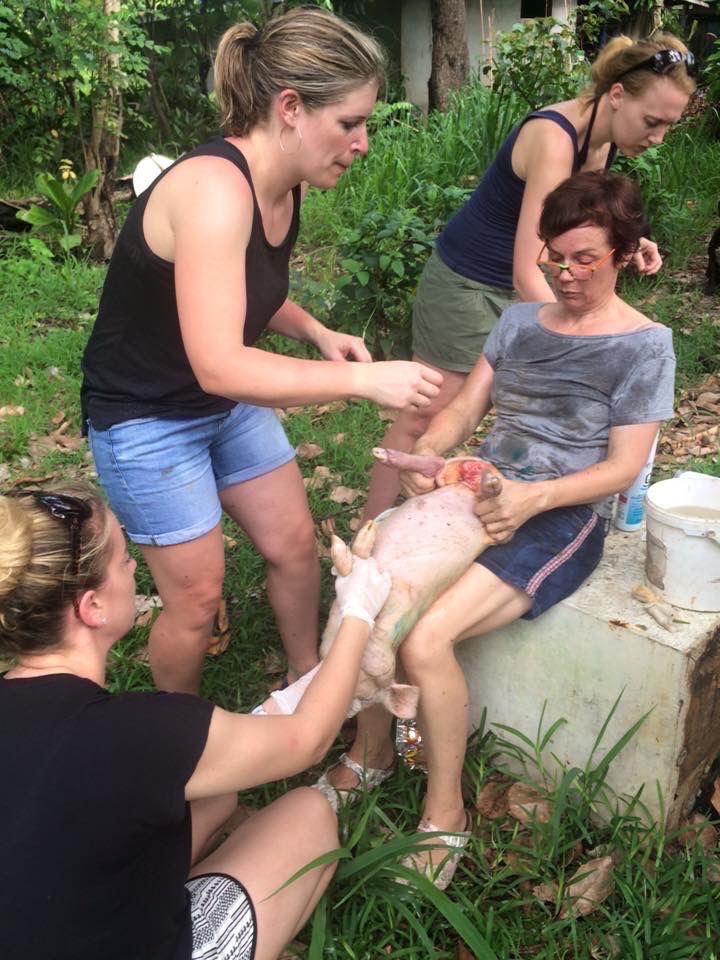 Day 8 in the small garden behind the high rise low income town house, we were greeted by our hosts and our new friend, Armelle who was a very interesting lady, widely travelled and who spoke English.  At the end of our day she decided we really needed to go and drink the local speciality which was Cava, and no it wasn´t the fizzy wine, but in fact a kind of earth, wood drink, drunk from a half coconut shell which made your lips and mouth go tingly and causes liver problems if you drink 7 or 8 so we all only drank one!
So for our last planned working day, Helena had got herself and Dominique organised to go to what she afterwards thought may have been a dog breeders, but they were welcomed allowed to swim in the pool and well fed.  Due to it being far from Noumea, they were able to make a day trip of it and visit a museum on route.  Whereas Toni and I had paid flights to Mare, where we arrived, were greeted and taken to a kind of fenced community of doctors, midwives, teachers …. here we set up as usual and operated on the 10 dogs that lived there.  Toni, was delighted as she was now operating at the same speed as me, and flank spayed a approximately 16wk old puppy.
The operating was now over… and we still had a couple of days in New Caledonia.  Thanks to Helena's research and Sabine's input we had a fantastic day on the Island of ?.  We were offered kway's before we set off which was a good thing because the trip there was VIOLENT, to such an extent that poor Ann, could not lift her arm above shoulder level for a whole 2hours following it and that didn't take into account our bleeding knuckles from holding onto the rope as the boat literally leapt about on the waves.  It was worth it though, the day was great with good diving, good food and generally some down time.  Poor Helena did not have that advantage as Didier was too interested in her!
After the following day, swimming on horse back, another first for a few, we returned to our sites, Suzy was leaving early the following day and the rest of us were going to stay at Sabine´s for the night before our flight the following morning.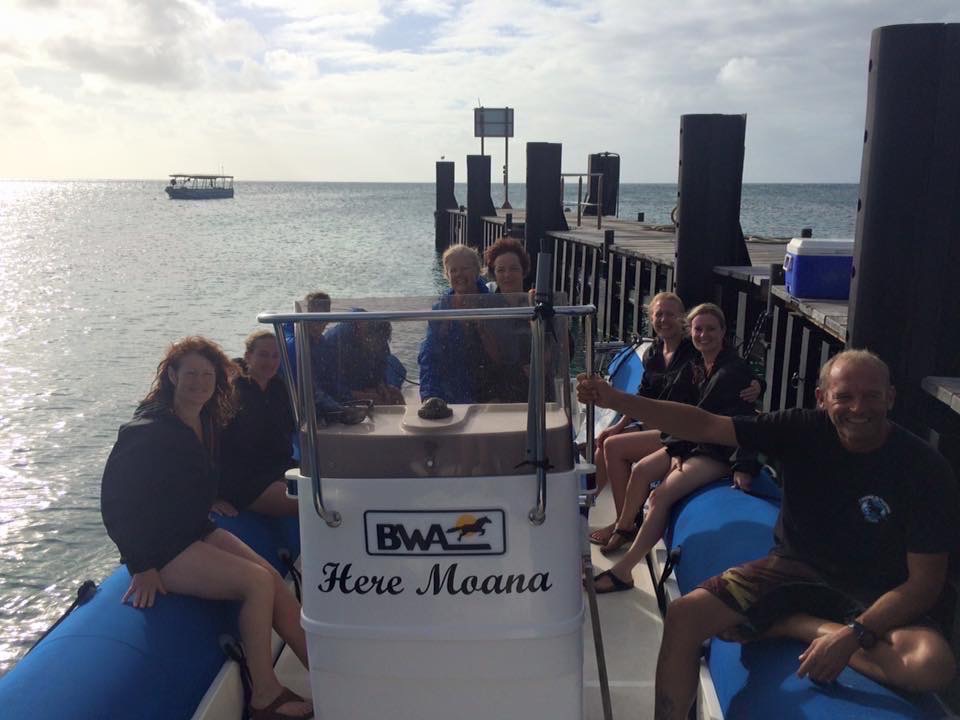 So yet again, the Spay Sisters have all returned to their normal lives, content with the work they did , there are now 248 less reproductive animals in New Caledonia, and though only the tip of the iceberg, the skinny animals we did will now gain weight and become healthier.  So as yet we are undecided as to where we will go next year, but murmurs of Africa were overheard.  And if anybody feels tempted to invest in our worthy cause please don't hesitate to go to Bank Natwest sort code 52 41 31 account number 45036276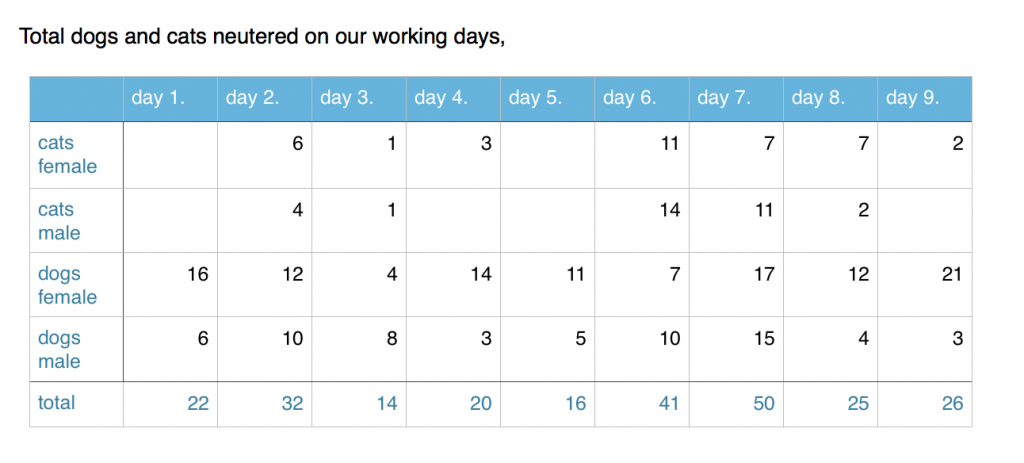 A total of 246 dogs and cats… and 248 with the 2 pigs!
Thanks for all your support and until next year….. The Spay Sisters