SHALOM!
SPAY SISTERS, annual trip this year was with the help of 'Let the animals live' to Israel.  Due to our website still being down (not for much longer) it was thanks to Uschi at the Mayhew Animal Hospital that we finally got our leads.  Anyway, it created a fair amount of 'last minute mayhem'.  Probably because the requests weren't put in early enough, we didn't find any drug companies to help us but thankfully our bank account still has just enough funds.
This year in our group, we were missing Dominique, a founder and trustee, due to her work commitments and Sharon, a fab  VN, who saw ISRAEL and thought 'too scary' – Sharon you missed out!!
So this year our group consisted of the regulars, Helena White (Also known as Doctor), a vet from the Rosemullion Animal Hospital, Cornwall.  Suzy Howes, a trustee, organiser, excellent VN 'Stay away from the suitcase, unless she says otherwise', who is now living and working in Jordan and me, Ella Stekly, founder, trustee, vet  and now self-employed in the South of France.  The newcomers, Katie …..  a vet from the Penmellyn Veterinary Group, Cornwall and our wildlife expert.  Ruth ……. an upbeat, efficient nurse from Churchend Vets in St.Austell……… and an excellent rower and last but definitely not least Toni 'lol' Corbett 'a cracking 'no shit' student VN'from St. Clements Vets in Truro.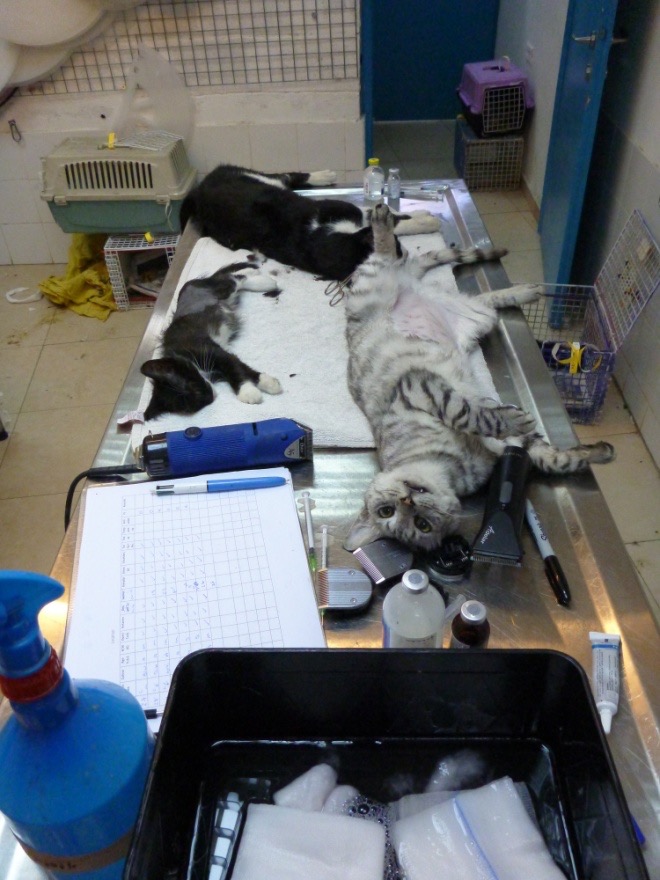 After all the regular problems of travel from Cornwall, or more easily from France, 5 of us met up at Luton Airport on Sunday 29th September.  Suzy Howes was arriving 2 days later from Jordan.   We were taking an afternoon Easyjet flight to Tel Aviv.  Obviously, in order to fly into Israel, there are 'before check-in' security checks but Jonathan Shpgel had written us a letter.  Helena and I were carrying all the instruments and all the anaesthesia ie/ vast quantities of Ketamine and we just passed through the 'straight faced' interrogators without problems.  Katie, however when asked 'was everything in her bag her own' replied 'NO' before trying to explain, she had taken masks and gloves from work, with their permission of course!! …. anyway she won't make that mistake again.  We finally all got on the plane.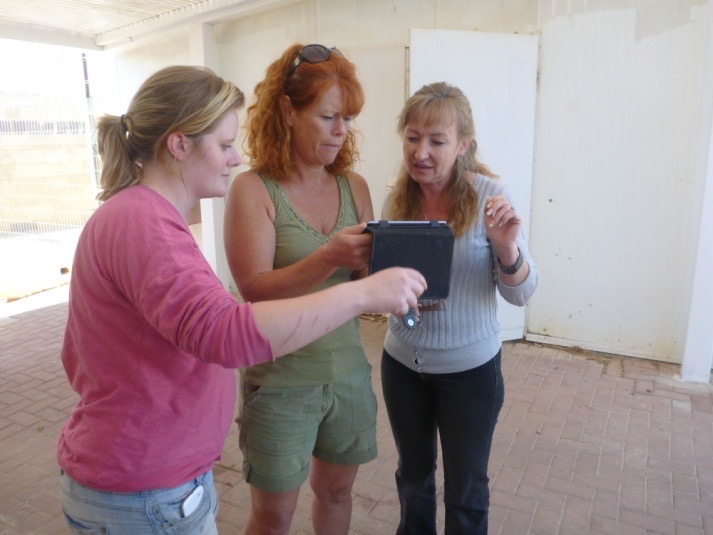 You never actually know what will happen the other end.  As email was the only contact we'd had with 'Let the animals live', but I needn't have worried.  We walked out through customs and were greeted by a man with a sheet with my name on it and with a mini bus outside.  He took us to 'Black and Wild', a super hostel at 250m from the sea.  We had 2 rooms, of 2 and 4, which were adjoining with a bathroom between.  It was now 11pm and our first working day started by Shevach picking us up from the hostel at 7.30am!!
So Shevach arrived outside our hostel and took us by bus to the Charity's Clinic.  The Clinic was a nice, clean, small clinic like most vets, the world over, with T-shirts, cat food and flea products on sale in the small reception area.  The operating theatre, which became 'our room' once Suzy arrived with the music, had 2 operating tables and 1 prep'g table.
The good news is that they were organised for us on our first morning …. with the TV crew waiting.  This gave Doctor Helena White the chance to talk about the 'overpopulation problem,' whilst Ruth was shown clipping a cats tail for amputation (basically nothing to do with what we were actually therefore!!)  Once they had left we got down to the 'Real Work'.
We really didn't get to meet them properly, they just shouted abit if we got the cats in the wrong cages, but the 'cat catchers' in Israel are pretty damn good.  These women arrive with 20 cat cages at a time, filled with 'well-feed, savage' cats.  At the beginning of day 1, our anaesthetic doses weren't that good, because we weren't guessing the weights correctly.  Universally the average stray cat weighs between 3 and 3.5kg's but not in Israel.  Israeli strays weigh between 4 to 4.5kg's and like the people are 'fighters'.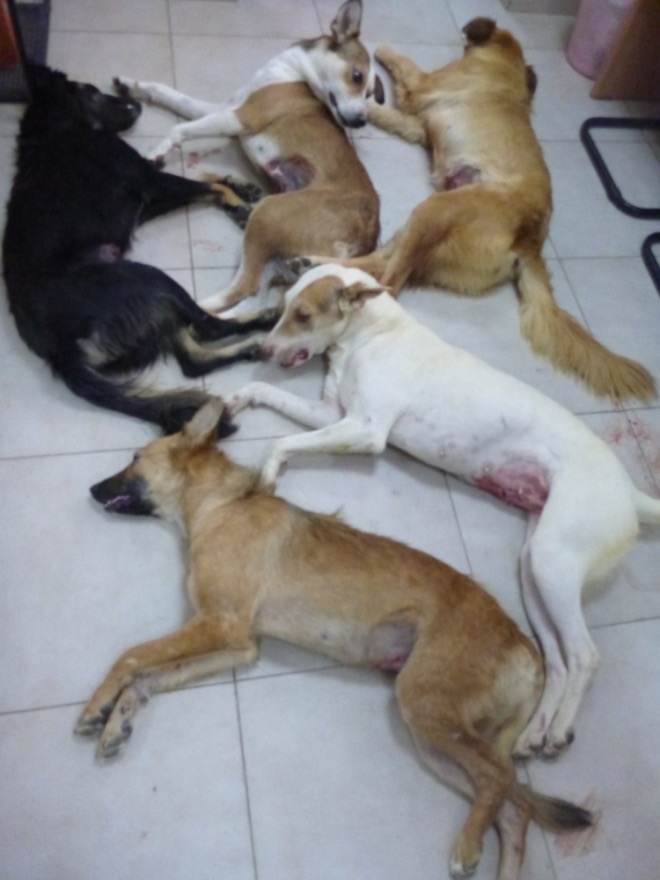 On day 1, without Suzy's charts, we operated on 42 cats and returned via bus to our hostel and a quick dip in the sea, facing the bright lights of Tel Aviv, to relieve our work stresses, bliss!!  After the first day, whilst they looked at our work patterns, they explained they had permission to operate in the municipal kennels.  Each city has a kennels, in which the stray dogs are put.  They are kept for 30days before euthanasia, health permitting.  Various cities were prepared to welcome us for a day or 2 to sterilise their animals and then rather than euthanizing  them, they would be fostered out.
So Toni and I were taken from the bus to the station, loaded with our operating equipment and we went to Lod.  There we met their really super municipal vet Dr Orr (which in Hebrew means light).  We were shown around the cattery and the kennels, shown the coffee machine, the average operating room and given a box of chocolates…. always a good start!!  5 bitches, 7 dogs, a train, a bus and we were on the beach by 5pm.
Katie, Helena and Ruth spend the day at the Tel Aviv clinic and another 37 cats were sterilised.
On 2/10 it was Helena and Ruth's turn to go for a 'walk about' and they disappeared on their train to Prades Hanna, where despite a lack of help ferrying animals to and from their operating theatre a.k.a  the office, they managed 9 dogs.  Another complicating factor about working in the municipal kennels is the fact that the working day finishes at 3 to 3.30pm and there is NO staying late!!   Katie and I stayed at the Tel Aviv Clinic and were delighted with our total of 48 cats.  Suzy had arrived, so the conveyor belt was running efficiently, we now had music blasting and Toni even had the chance to learn how to castrate cats.
Day 4 and the last day of the week, in Israel, Friday and Saturday are the days off each week.  Toni and I pleased with our outing to Lod, were allowed to return.  Helena and Ruth returned equally to Prades Hanna, their operating room had now moved to an outside awning!  Whilst Suzy and Katie remained at base.  It was another successful day with a total of 52 animals getting sterilised.
Though we had only done 4 days of work we were all fairly tired, but as none of us knew if we'd ever return , we had to make the most of our stay.  The 7 seater  MPV was hired, the French woman from the hostel (who had had both her legs amputated high thigh due to a house fire 18 years ago) whom we'd befriended and her wheel chair were loaded into the car along with all of us  and we set off for Jerusalem for the day.  Hels was invaluable with her religious knowledge and Toni and Suzy, were also invaluable, due to their lack of!  Basically, we were all invaluable because going on a guided tour through the narrow, cobbled, loads of steeps, streets of Jerusalem with a woman in a wheelchair is simply sport.
Their Sabbath our Sunday was spent at the ancient town of Caesaria, where finally we spent a few hours doing nothing…. even Katie slowed down momentarily.
That night we were off on a couple of trains to get out to 'the desert' Dimona, for their city pound and between 50-100dogs.  They had us in a nice hotel with a wonderful buffet breakfast and NO, Toni never did dare eat cold fish for breakfast.
At 7.30am on Sunday we met Dimona's vet, a lovely lady called Natali.  She was Russian and Helena spent time watching her and wondering how anybody vetting in the Uk could look like her.  She had high heels, an off the shoulder fish net type top, beautiful fake nails and large cream rimmed sunnies, but she was lovely.  As was Liana, who loved the dogs and ferried the dogs in and out of the kennels relentlessly.  After 45 neutering operations of which 26 bitches and the rest dogs, we had had a productive day.  Katie who had come onto our trip to gain confidence was definitely speeding up and now with Suzy's equipment was providing us with good music too.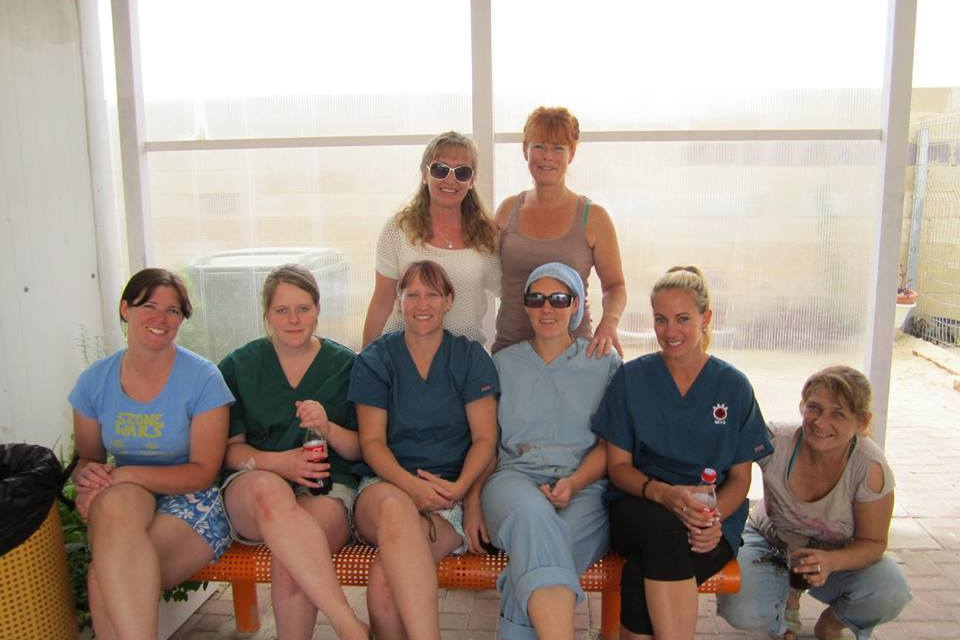 The following day, we reached 74 and had exhausted their dog and a few cats supply and a job was that was meant to take us 3days had taken 1 2/3rd so we had time for extra sight-seeing.  Natali assured us we were not to feel guilty and just enjoy.
Some of the team went off camel trekking and learnt that camels can drink 200ltrs of water in 10mins and then need not drink for another 2weeks,  they also fell in love with the baby camel, which are called calves!!
The dead sea, what a laugh.  The pictures say it all and after that and a good icecream and we set about getting ourselves, back to Dimona, packed and to the train station for our train back to Tel Aviv.
The 9th we were divided again with Helen and Ruth returning to Tel Aviv clinic whereas Katie, Toni and I set off to another city pound in Mesubin and a small surgery space.  We were now all working well together in our groups and felt at ease enough to learn tricks one from another.
Then onto our last day at work, which we all felt sad about.  Helena remained at the clinic in Tel Aviv and did an excellent last days work single handed, doing 27 cats in 4hours 15 minutes and therefore snatching the title from me as 'the winner' of operations carried out!! Katie, Toni and I headed off to Ashkelon. On the way, we noticed more uniformed soldiers, male and female and it was only later that we found out, that we were 15 minutes from the Gaza Strip.
Well Ashkelon city pound was strangely our worst working day of the trip.  The operating room, unlike any of the others, was cluttered with super stuff, a great autoclave, a great operating light, cupboards crammed.  5 Stethoscopes in boxes, new ET tubes, bottles of domitor and antisedan, black bags of sterilised draps, electric heat pads for post surgery (strange considering it was 30 degrees and you simply had to turn the air-con off) it always makes you alittle sad because you know it will get wasted and not be used.  The young man running the pound was also dysfunctional and unhelpful.  He wished to stay in his office and when asked to bring a dog – bearing in mind he easily had 30-40dogs in his pound, he insisted on putting on blue plastic gloves, a new pair each dog and using the dog catcher to remove the dogs from their kennels.  Basically he was scared of the dogs.   So despite all the wishes in the world, he suddenly decided at 1 o'clock 'one more hour' and then refused to bring us anything else despite Toni saying 'Get 6 more dogs now' 'Get 6 more dogs NOW' .
So our working holiday was over with 359 animals now sterilised and no deaths.  'Let the animals live' gave us a lovely farewell dinner and would like us to return so….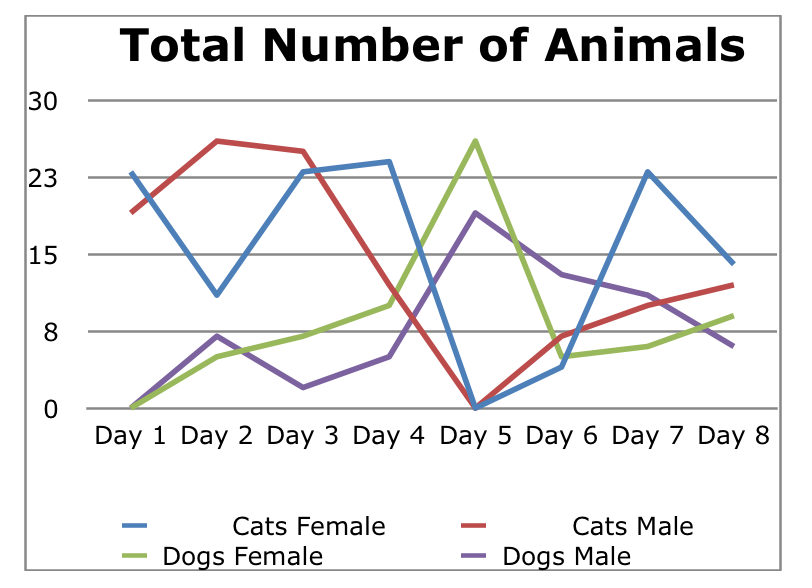 Toda Raba ….. Shalom