SPAY SISTERS MOZAMBIQUE 2017
SPAY SISTERS were setting off again!! This time in conjunction with the offer from Protect Ponta and a helping hand from Dr. Lawson Cairns to Southern Mozambique.
The trip was being attended by some core members, Sharon, Suzy and myself, by some more recent repeat visitors, the two Toni's and by some newbies, Jill, Sophia, Lizzy, Amy and Fay.
So via different planes and preceding journeys we all managed to arrive on the same day into Durban S.A.  With our possessions scattered between suitcases along with swabs, syringes and scalpel blades!
Without waiting, we were greeted by Caron, who loaded us into 2 vehicles and took us to a hotel.  We were staying the night there before setting off in the morning for the 5hr drive to cross the border at Kozi Bay into Mozambique.  After a nice meal in a little restaurant, we all collapsed into bed with our new sleeping partners… hoping we wouldn't move around too much, snore or steal the sheets!
The next morning Benny and Stone arrived in a minibus/people carrier, loaded our suitcases and off we set.  Stone was simply hysterical and we missed joking with him on our return journey.
Customs went smoothly, when the customs officers asked Toni to open her suitcase, we all silently gasped, wondering what he would find.  In fact she just had sterile gloves and when asked 'What is this?' She calmly replied ' I have sensitive skin and can't go in the sun without gloves on'.  So despite it being a totally ridiculous reply, because said with such confidence, no further questions were asked.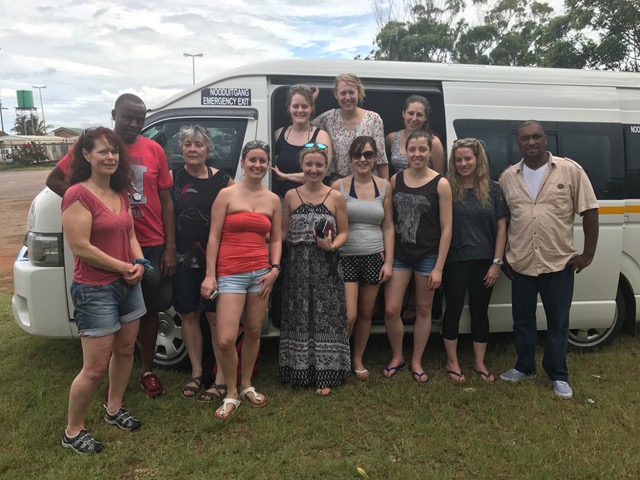 Kozi Bay Border involved a change of transport, where we said 'Bye' to Benny and Stone and where Shannon and Sara arrived.  Sara Grosso is a Portuguese vet, who works in Mozambique and has been working from time to time for Protect Ponta.  She had put in a lot of work, preceding our visit and spent the 2 weeks with us, helping, vetting and communicating.  So a big thanks to Sara.  The biggest difference about leaving SA and entering Mozambique are the roads.  In Southern Mozambique, or at least where we were, there are no roads, simply sand tracks.  4 wheeled vehicles are necessary.  After another hours drive on the, not flat and definitely pot holed sandy tracks we arrived in Ponta do Ouro.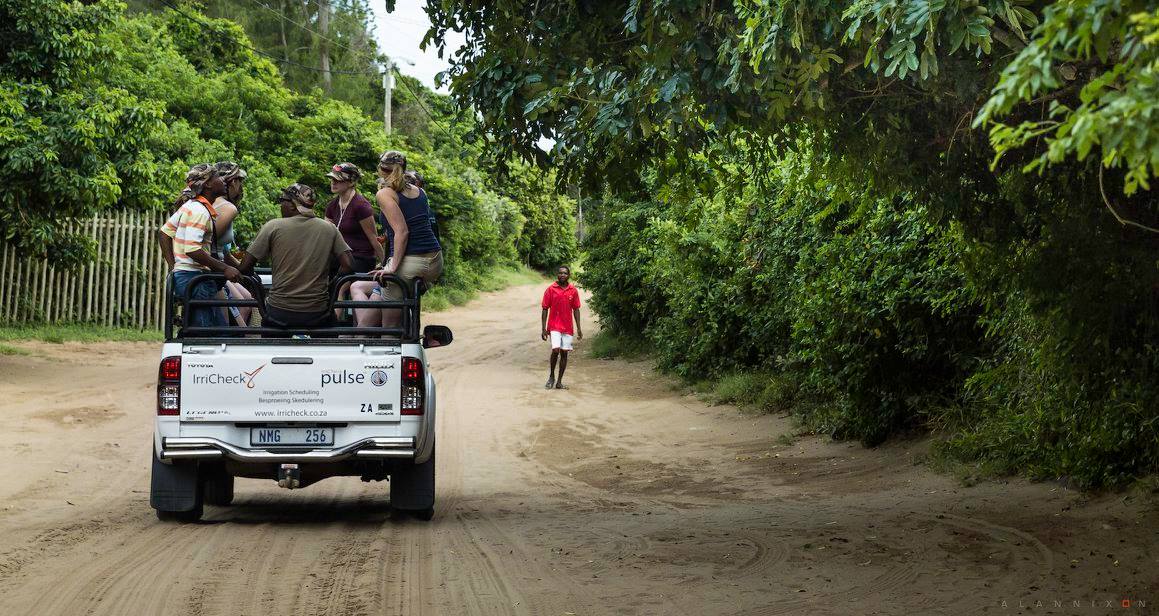 Here we were greeted by our hosts for the week Lois and Rob.  They were simply fantastic sharing their house and being responsible for food and beverages for the week.  Thanks to Rob, we now know what R & R's are!!
Once the suitcases were unloaded and Suzy was allowed 'to sort', the rest of us went for a walk and swim in the sea.
Wow, the sea was warm and the scenery spectacular.  However, the weather on our first week was somewhat UK as it rained a lot despite not being cold.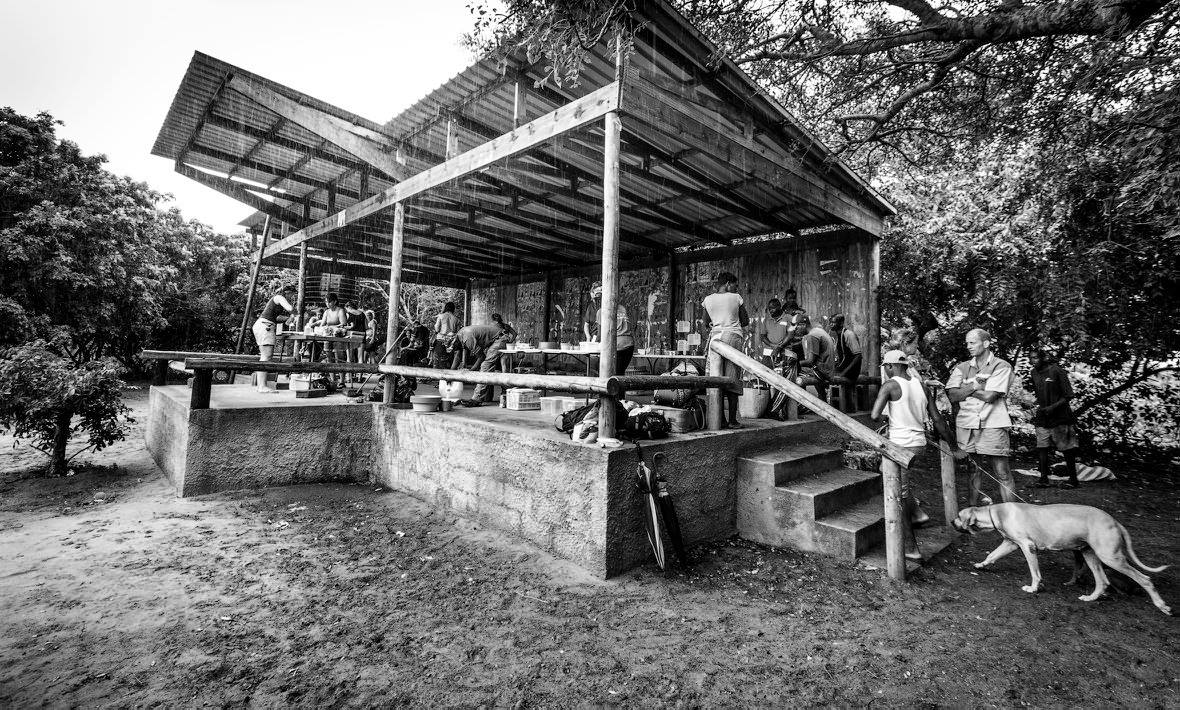 Day 1.  Monday and the start of our working week.  Sara and the Protect Ponta team were anxious, would anybody turn up?   Would people bring their animals?   After all it was a new concept.  Bring your animals, get them operated on, get them vaccinated, de-flea'd and wormed and take them away again.  For us it was important that we didn't make any mistakes.  First impressions count and word travels quickly in small communities.  We are also on show, everything is visible.  Despite all the first day stresses, nurses sorting out their roles, vets sorting out their instruments, we also had the students.  Not only our 2 UK final year Bristol vet school students but also 4 final year vet students from Veterinary Faculty, Eduardo Mondlane University, Maputo, Mozambique.  Prof Vidane was accompanying Mercia, Bilério, Orlando and João Pedro.  So from the first day our roles as simple vets had changed, it was no longer a simple number crunching exercise but a teaching role.  Our objectives were not simply to sterilise as many animals as possible but to be able to help, assist and demonstrate skills that we had learnt to a new generation of vets.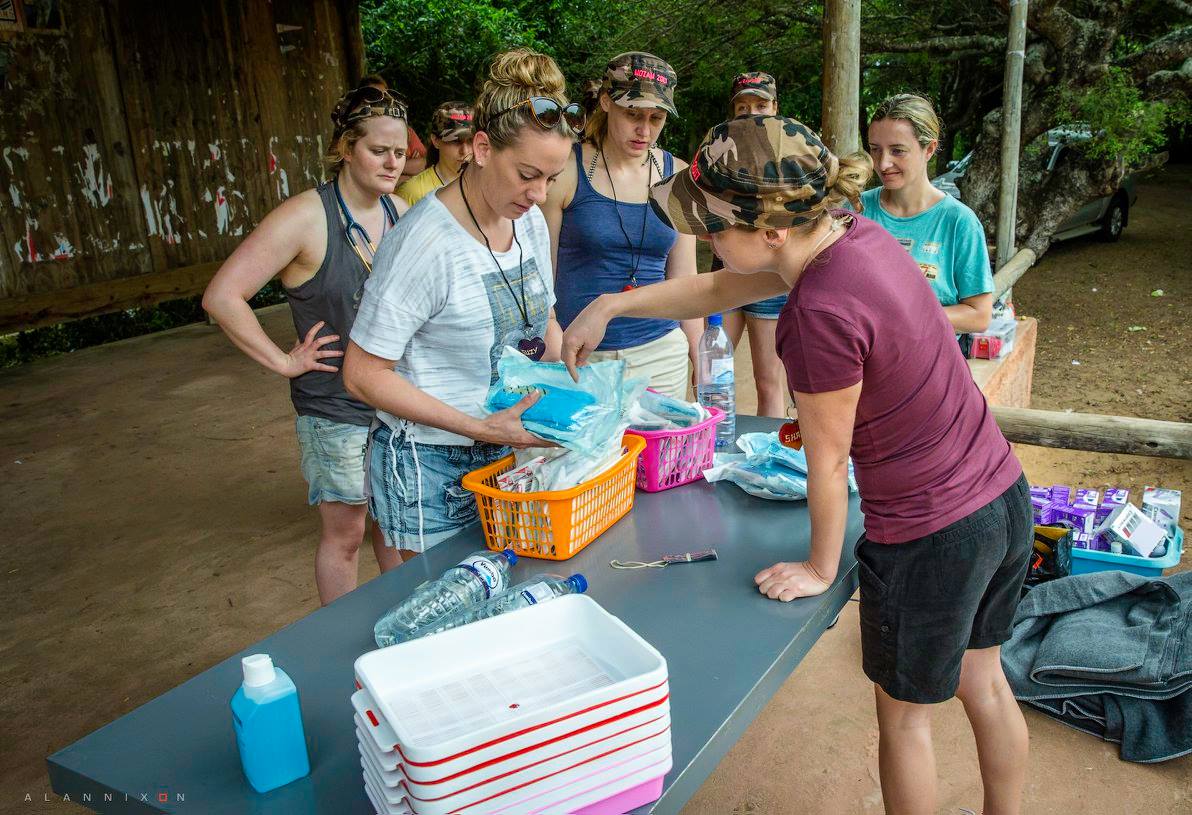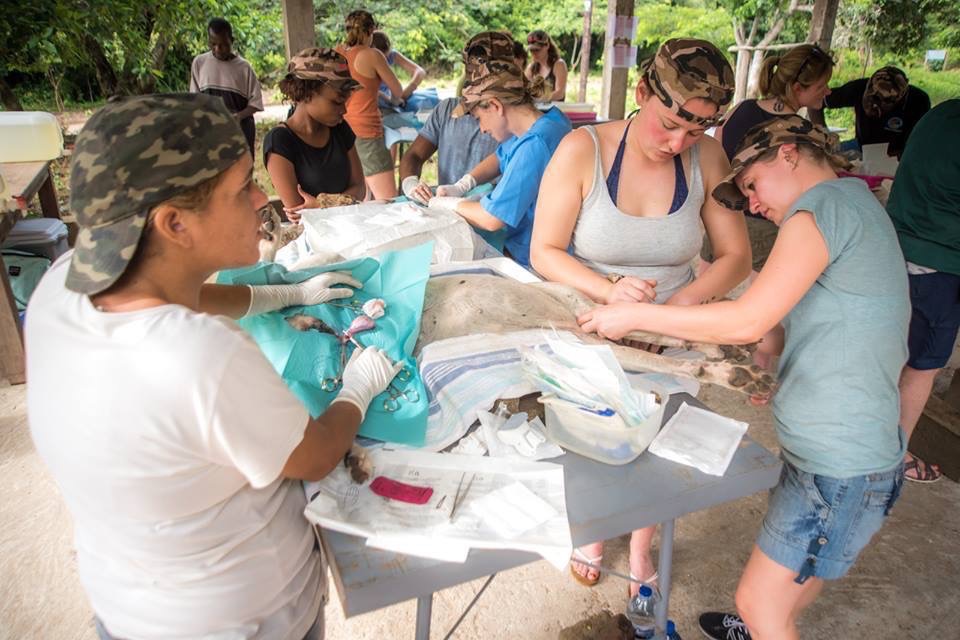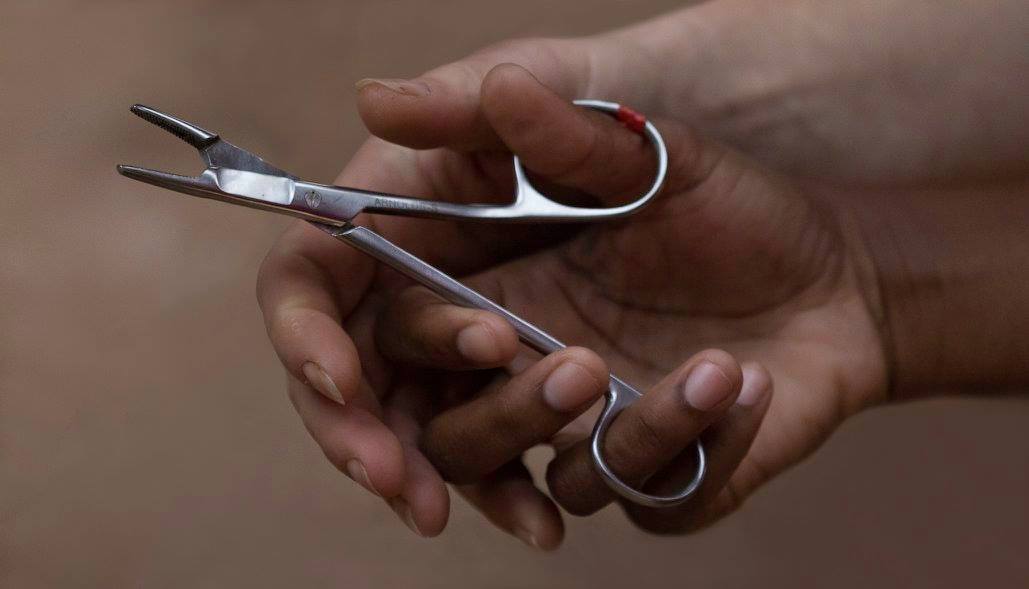 As vets, we all giggled together at the end of the first couple of days, the stresses are different.  How can you visually tell whether a knot tied is as tight as a knot you yourself would have tied? Also a few of us, had left Uni a very long time ago,  so the technical terms needed to describe 'Yes pull THAT bit' were lacking!
However, the bonds were forming within the team and everybody adapted to the situation.  The nurses and trainees played their major role brilliantly.  They had to be flexible as the students were slower and therefore the animals needed anaesthetic top ups and required more observation while waking up.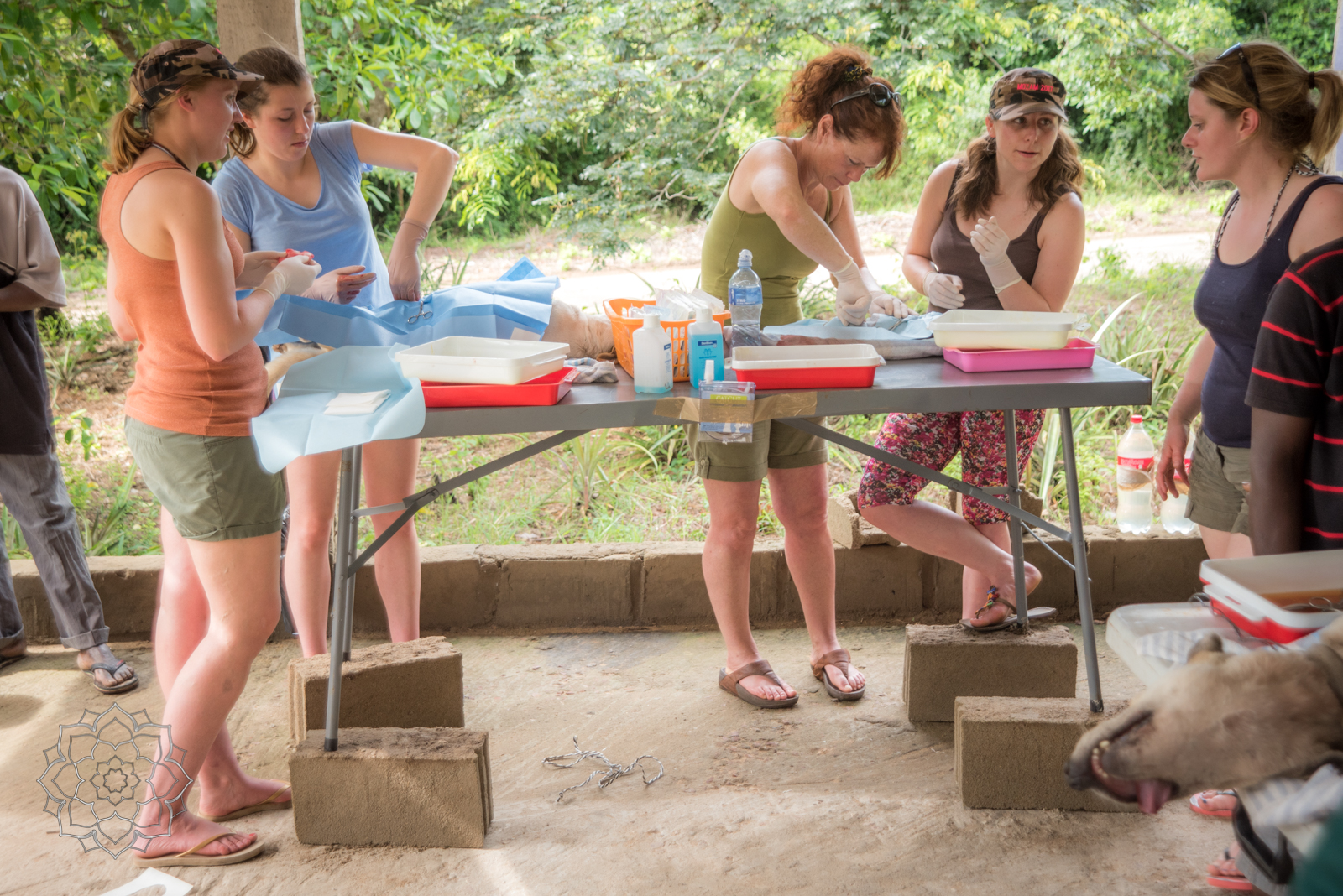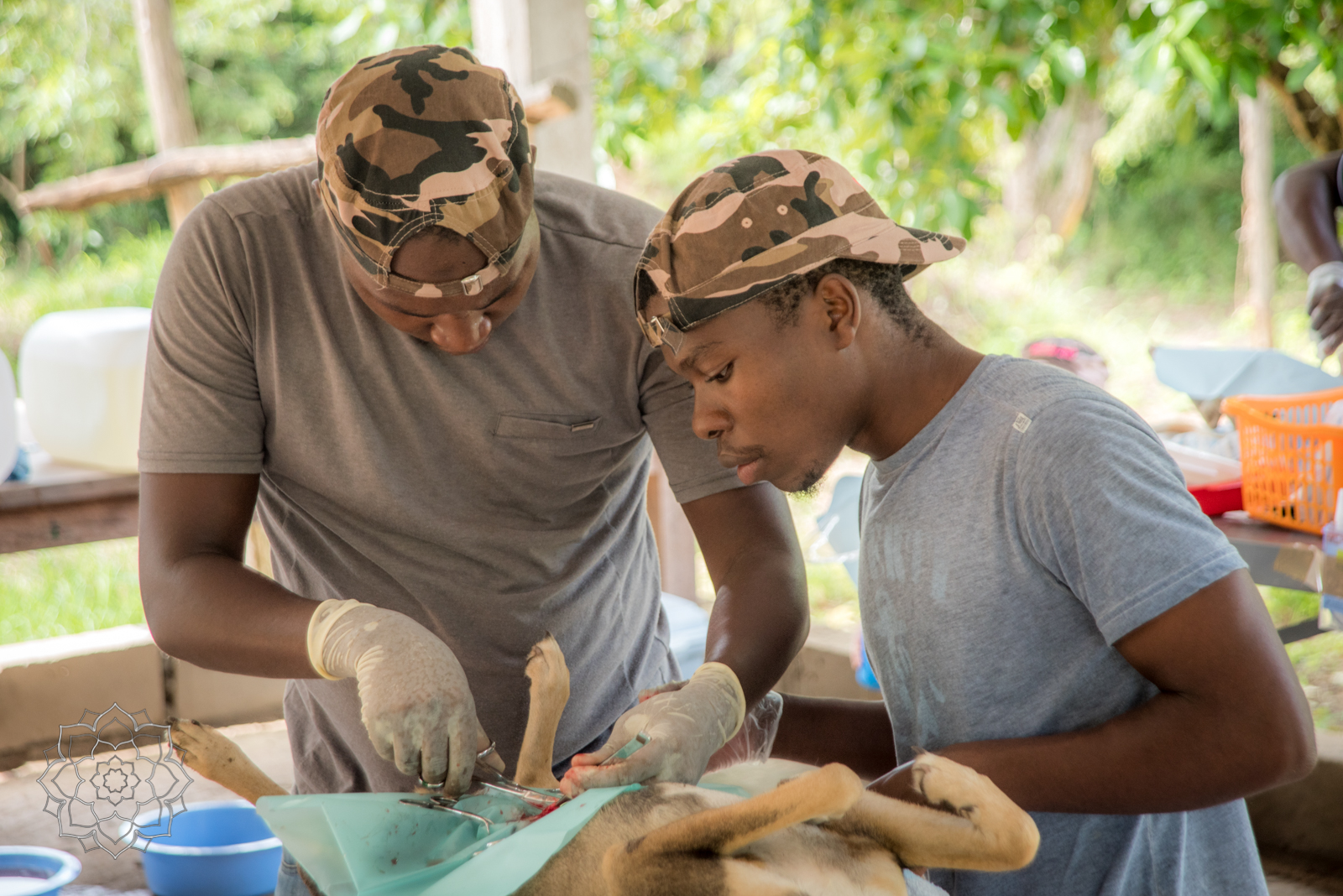 The wonderful thing about these Spay Sisters trips is the exchange between vets.  We are all carrying out the same procedure, but despite years of experience, you always finish your sejour with another practical tip to facilitate the job.  The Jill Mullen suture ( Modified Miller) definitely won the Moz17 prize – thanks Jill.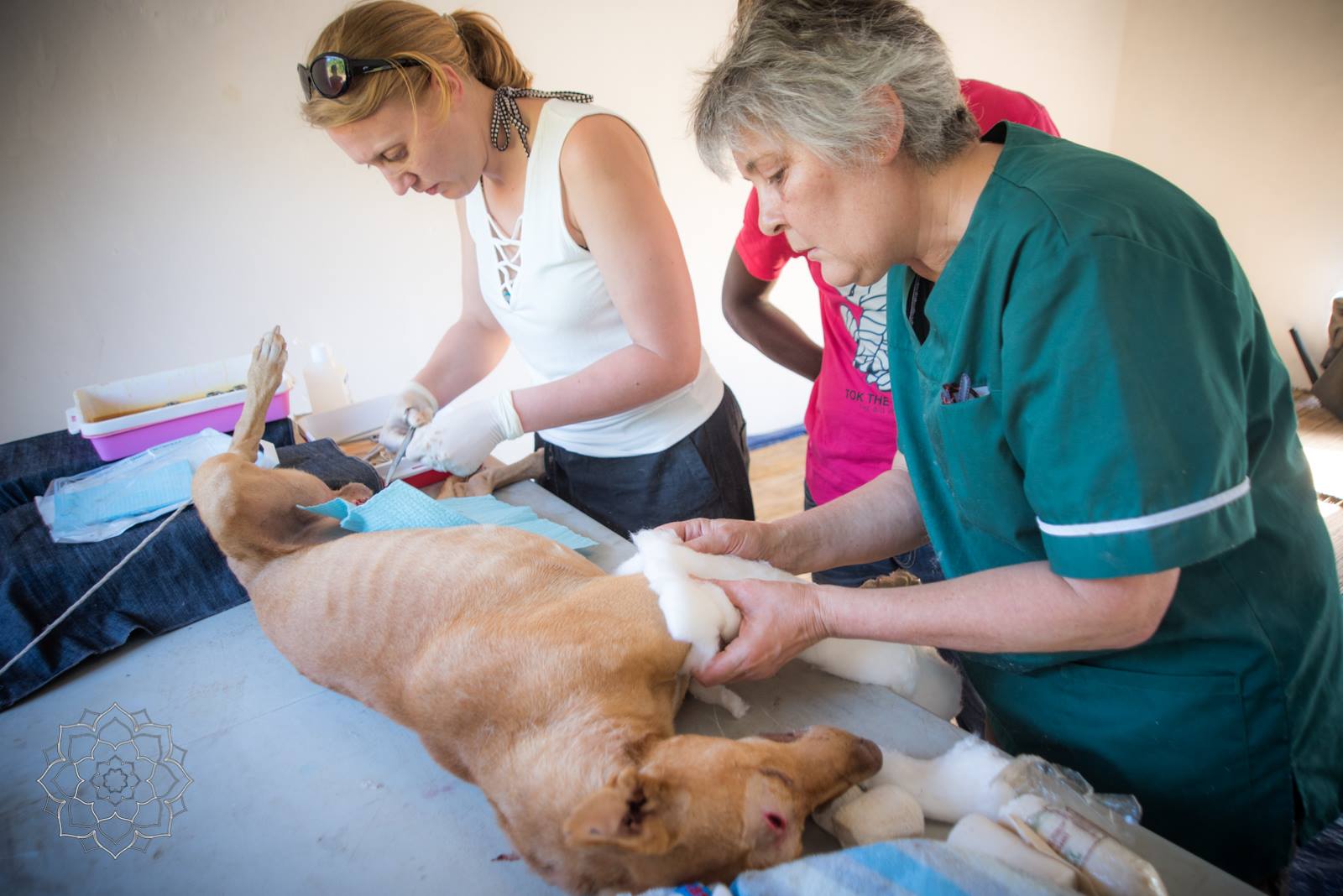 We had also been given the challenge of castrating a 3 year old donkey.  Protect Ponta had managed to borrow some emasculators and get some domosedan (the sedative for equidae).  Which despite some reasonable anxieties, a lot of donkeys have haemophilia, the operation carried out by Toni (sensitive hands) and myself went very smoothly.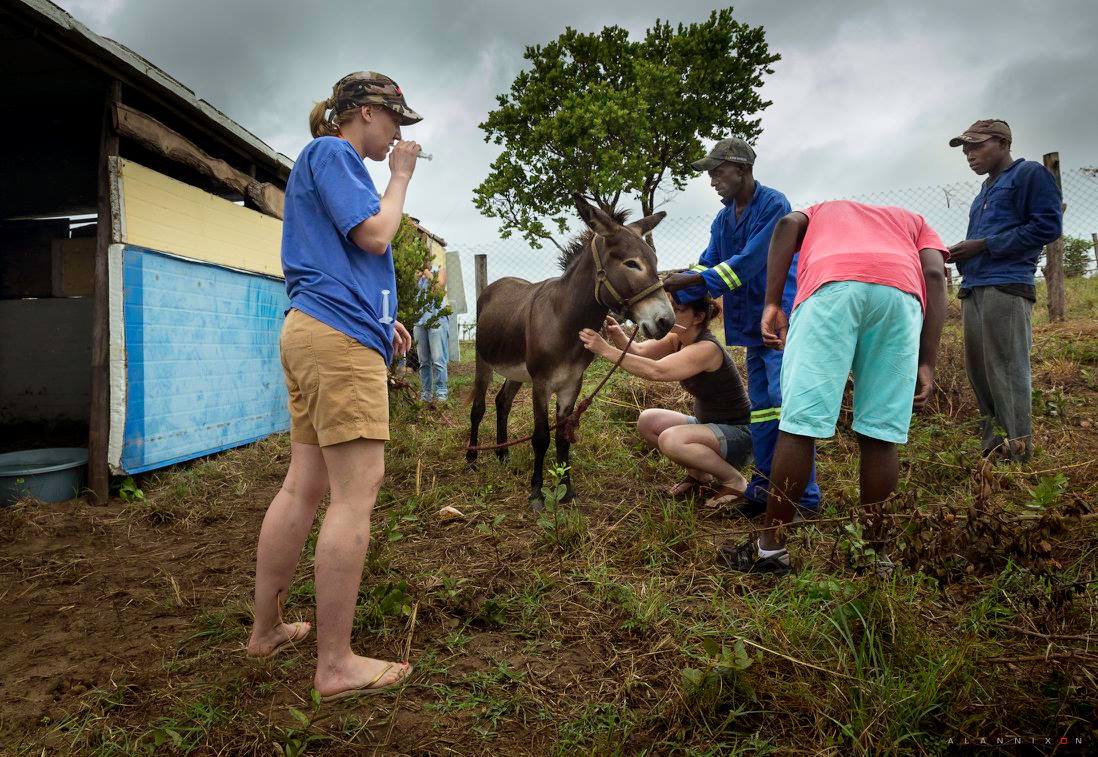 By the end of our 4th day in Ponta da Oura, the vets had acclimatised to their instructing role.  Jill managed to oversee 3 dog castrates at once! Sofia and Mercia, were chatting away, whilst operating on their table. The students were excelling at their hands on experience.  While some nurses were helping catch anything that didn't want to be caught, the others kept the production line moving.  There was only one bitch spay with puppies who needed a restitch and that didn't involve the muscle layer and one castrate dog that we gave a bit of fluid to as he returned, having been taken home as he was still a bit flat.  133 animals had been sterilised.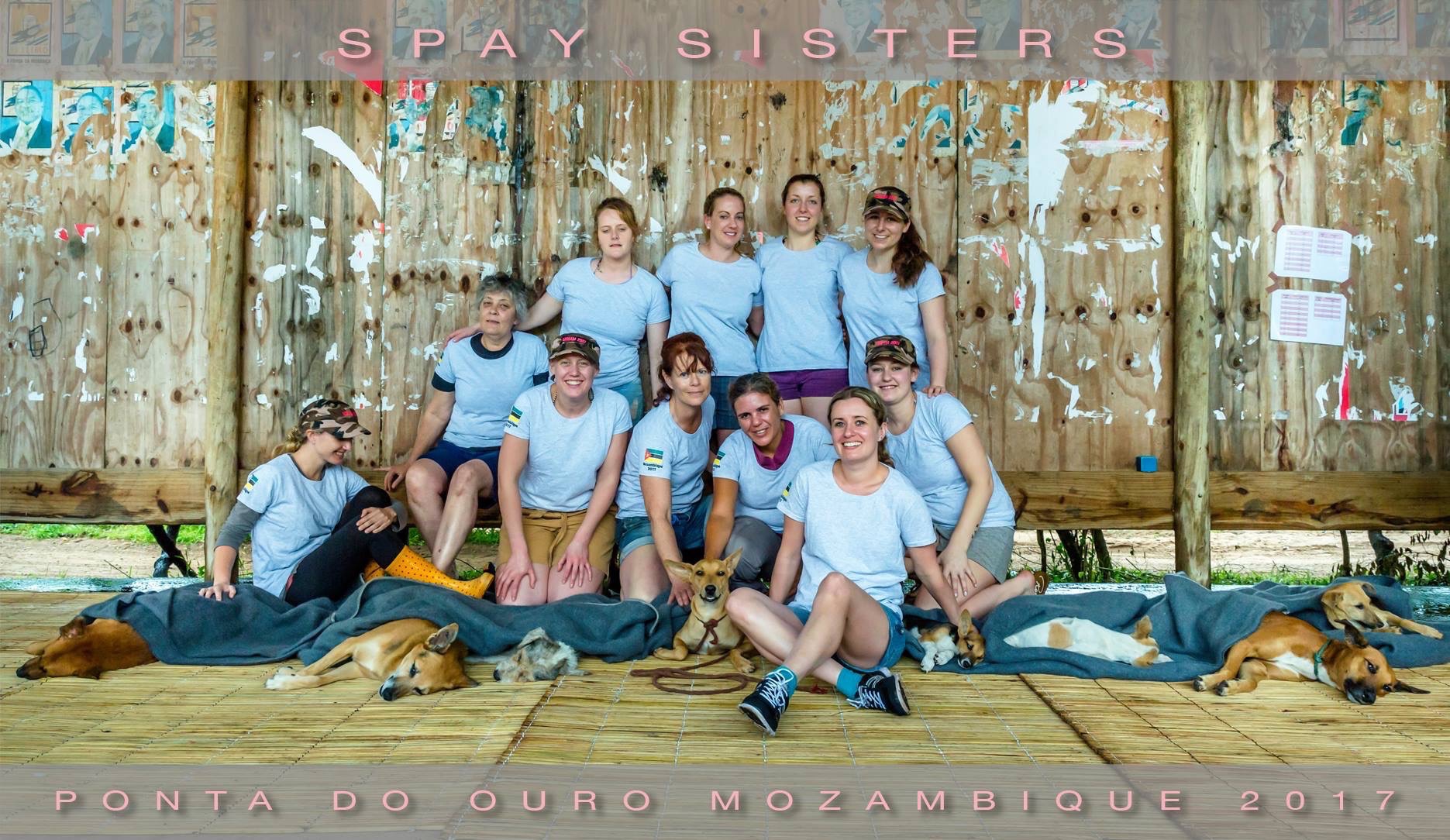 We were pleased with the following day being a day off, when we were yet again spoilt by Protect Ponta and those who wanted to go diving could.  We then had to say 'fond farewells' to our super hosts Lois and Rob before setting off for our second accommodation, Shannon's house.  What a spectacular location, her house facing the beach is in Condominio Mar Azul, in Ponta Malongane.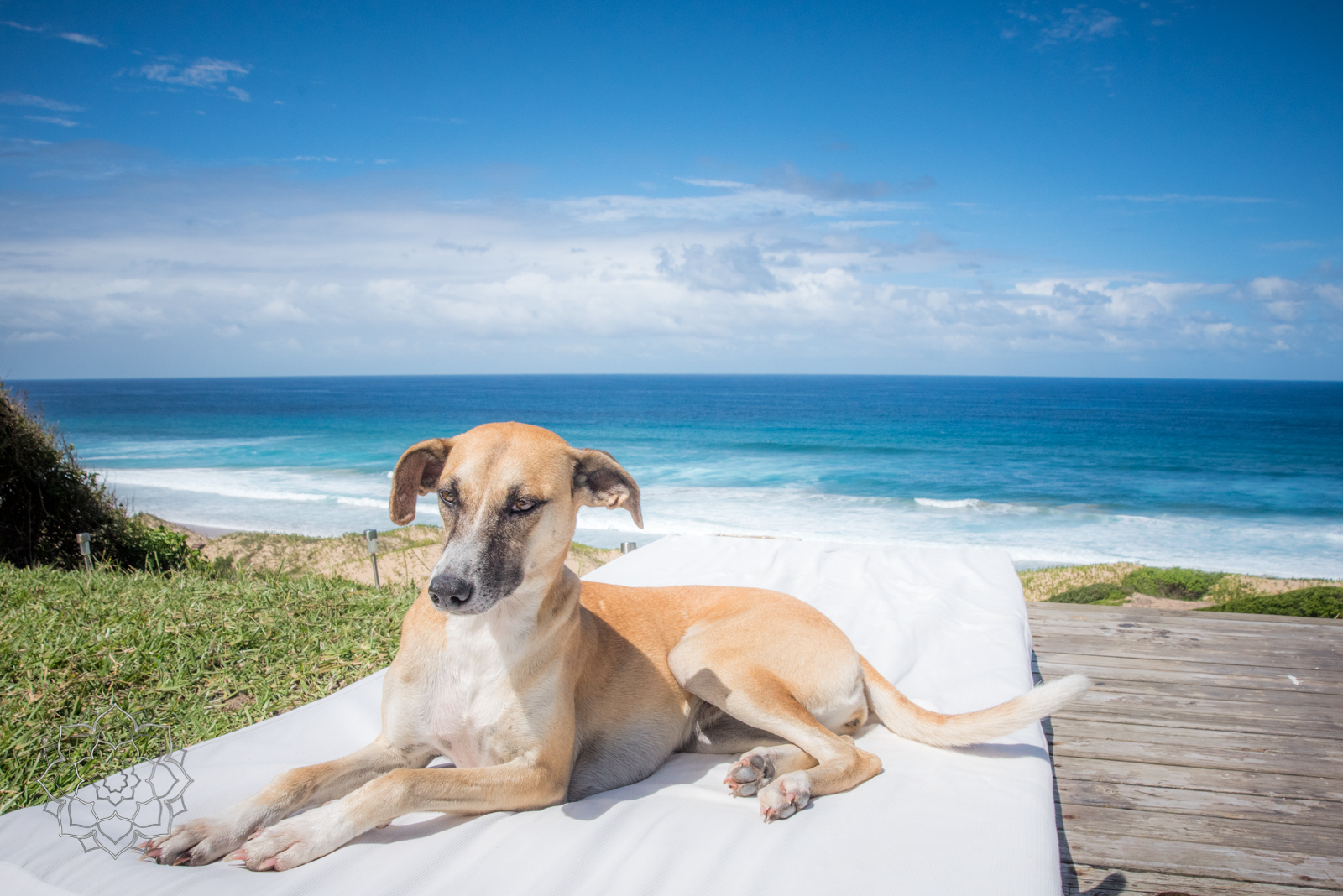 Our next 6 working days were divided into 2 days at Zitundo, 2 days in Ponta Malongane and 2 days in Mamoli.  In Zitundo, we were based in the village hall, which had been cleaned up for our arrival and the Mozambique flag was flying.  To make these trips successful there is so much behind the scenes work and we were so grateful to Vanessa and the Protect Ponta group for sorting out everything, from our breakfast to the transport to these places and everything that entails.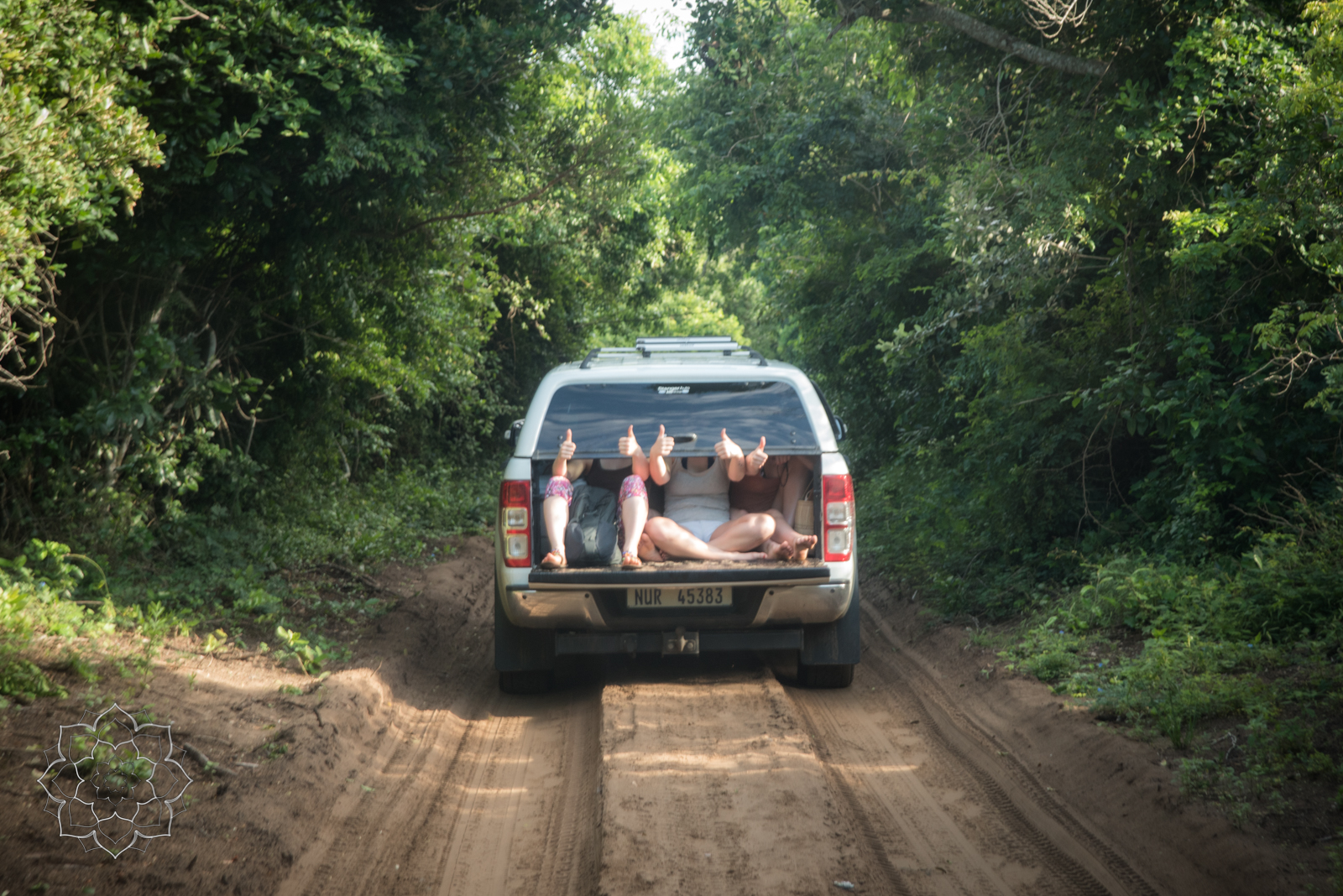 In Zitundo, one of the Mozambique vets encountered his first experience of the bleeding bitch spay.  Which resulted in an action packed response by the team as the head torch was found, the drip was put on and the incision extended.   In general, from a veterinary point of view, the dogs do bleed more than in Europe.  The reasons are multiple, they can be at any time of their cycle and a lot have Babesiosis and Difilariosis.  The nurses found and removed a lot of ticks.
Thanks to Daniel's input, he works for the W.H.O and was not only a good cat catcher (Neil was our first week cat catcher and despite being a beginner, deserves applause… it is not an easy job)  but also managed to provide us with rabies vaccines for not only the 293 animals that we operated on but also the 52 animals that came along simply for vaccinating.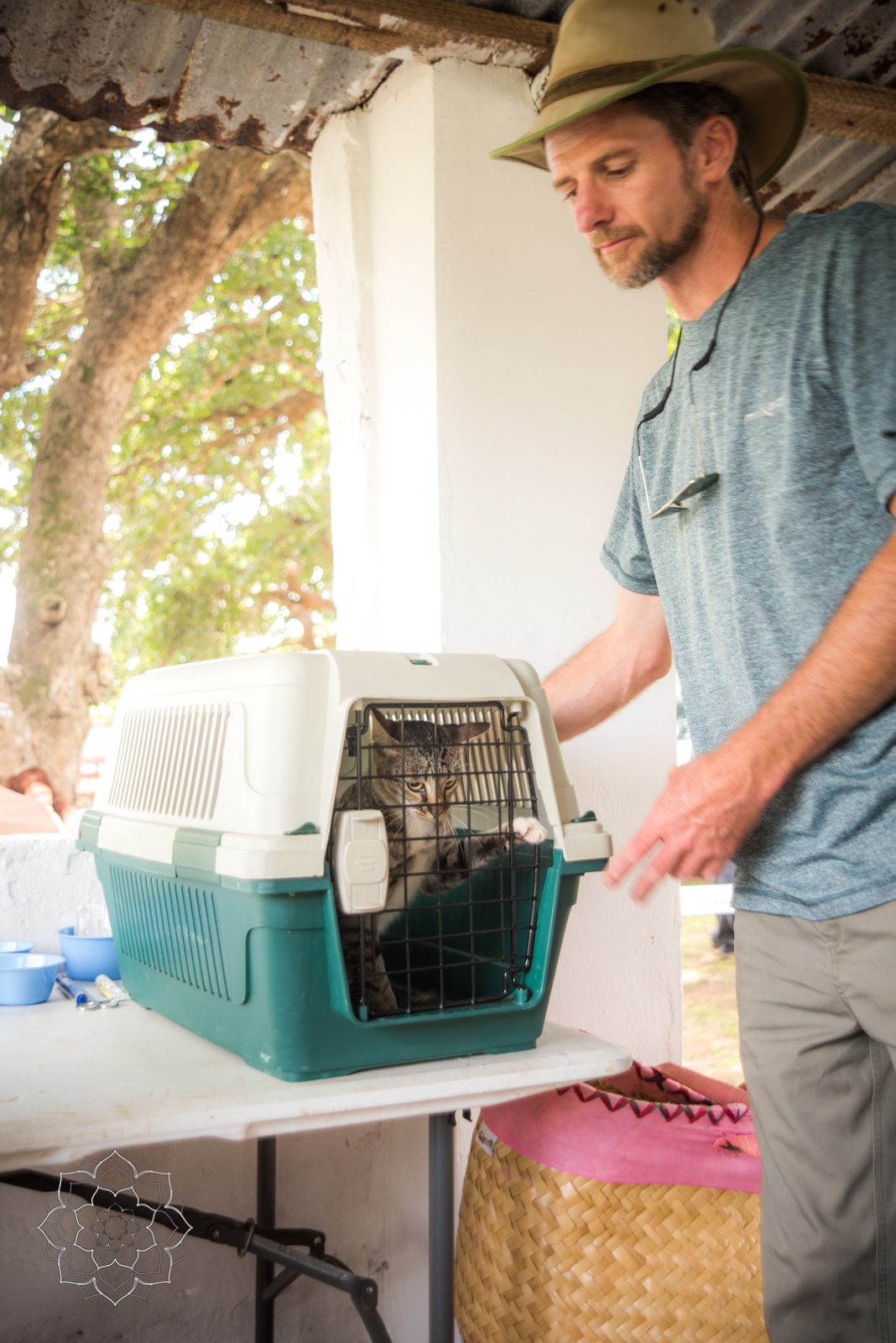 At the end of our second day in Zitundo, by which time we had noticed the local ladies… Whilst we were working in the village hall they were cutting down all the overgrown bushes and greenery around the village hall, so thanks to Vanessa, we all had a little ceremony, leading to us all dancing and singing together.
Another 2 productive days in Ponta Malongane, thanks to the help of Christopher, who was instrumental in helping communicate with the villagers and explaining the benefits of getting their dogs operated on.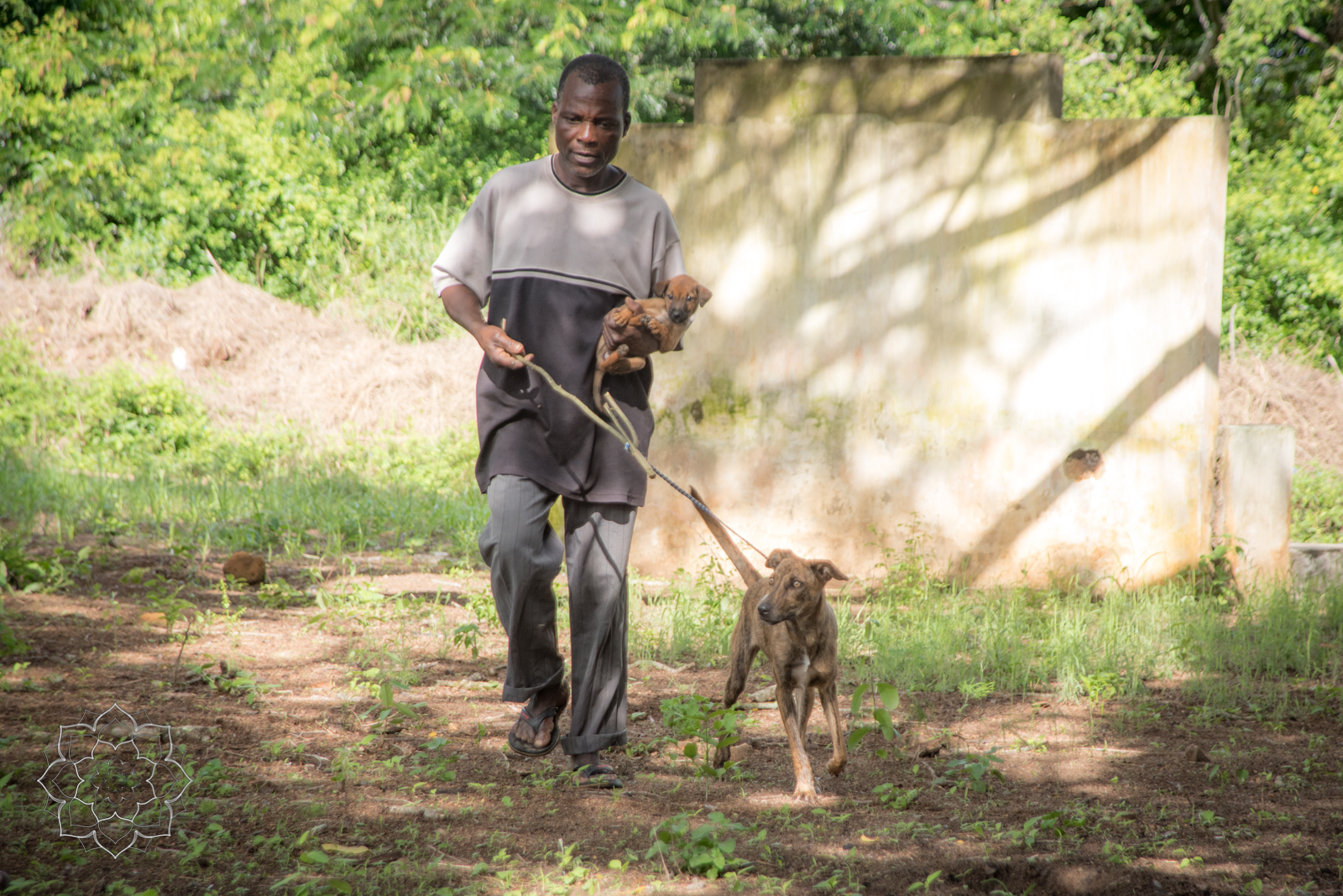 It is difficult when you come across dogs which are ill, one bitch had TVT (transmissible venerial tumours) and so despite finding metastatic tumour spread within her omentum, we proceeded with the operation.  Giving her back to her owner, we tried to explain that she was ill and wouldn't live for very long.  But whether this information was understood is debatable.  Our aim is obviously not to leave the owner, with the idea that the operation was the cause of her later dying. So we organised for him to get a new dog after our departure.  He seemed happy with the solution.
Our final operating site was inside a too dark hall or under the trees outside, in the blazing sun.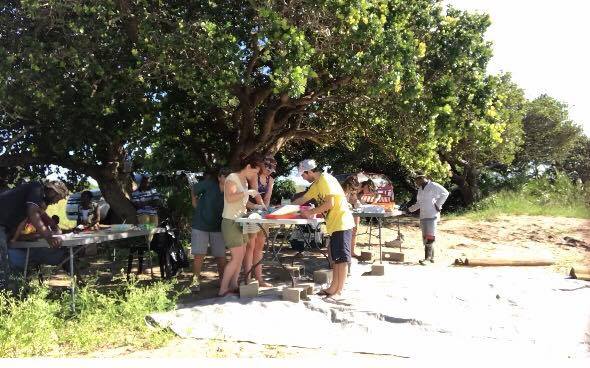 Leading to the girls finally catching a bit of sun between animals as there were fewer attendees due to the Chief having not really taken much interest in the project. It also lead to the students, really getting stuck in and making sure all their surgical techniques were working and that they would be returning to their normal lives having acquired new skills.
Working day 1 to 4 were carried out in Ponta do Ouro
Working day 5 to 6 were carried out in Zitundo
Working day 7 to 8 were carried out in Ponta Malongane
Working day 9 to 10 were carried out in Ponta Mamoli
The last 2 days had less owners and animals arriving due to the fact the chief of the area had had less involvement with the project.
Total animals neutered 293.  Total animals vaccinated 345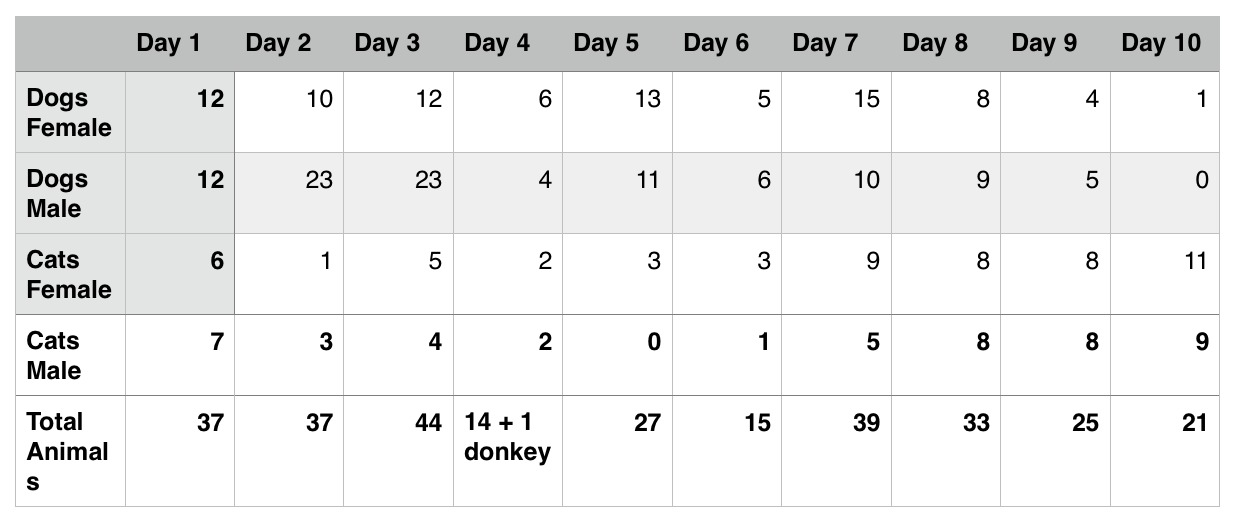 For this project, there are obviously a lot of necessary medicines and equipment from viscous eye gel and caustic pencils to tape.  However the vital 5, which we used on this trip were:
15 x 10ml bottles of Sededorm
25 x 10ml bottles of Ketamine
1  x 50ml of Dolorex
1 x 10ml of Dolorex
2 x 100ml of Meloxicam
2 x 250ml of Shotapen
A successful Spay Sisters trip is not simply due to us but also to the people in the back ground that play their part.  So our thanks to ….
David at Elm House Veterinary Centre for allowing us to buy through his surgery.
Monica and Koen at Cabinet Vétérinaire de St Pons for allowing purchases through the surgery
Lawson Cairns for allowing us purchases through his surgery
Daniel of WHO for rabies vaccines
Protect Ponta for not only the super accommodation and food, but also allowing us to dive and swim with the dolphins.
Alan and Greg the two photographers, who provided us with some wonderful visual recording of proceedings.
and to everybody else who played their part in making it happen!!